O'Toole Leads adidas Grand Prix Boys' Dream Mile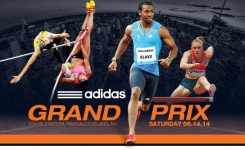 June 11, 2014
Line-up features prep athletes ranked #1 in U.S. at five distances
By Distance Preps
NEW YORK — Ricky Faure, Sukhi Khosla, Blake Haney and Garrett O'Toole, whose 4:01.89 Mile last week leads the nation, will headline the Boys' Dream Mile at the adidas Grand Prix on Saturday, June 14, organizers have announced.
Tickets for the event, which is marking its 10th year of bringing the world's top athletes to Icahn Stadium on Randall's Island, are on sale now at www.adidasgrandprix.com or by calling 1-877-849-8722.
O'Toole (Concord, MA), who also holds the #1 time in the U.S. for 1500 meters (3:45.55), calls breaking the 4-minute barrier "a possibility on the right day." In 2011, Lukas Verzbicas became the fifth U.S. high school boy in history to break 4 minutes for the Mile when he won the Boys' Dream Mile here in 3:59.71.
For the complete boys' Mile field, continue reading at: www.distancepreps.com