Plymouth Community Reacts to Morgan Uceny's Olympic Run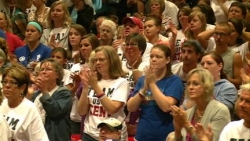 August 10, 2012
By Melanie Yuill, Fox 28
Plymouth's own Morgan Uceny was running for the Gold in London Friday.
And the crowd at Plymouth High School was just brimming with excitement to watch the race and cheer her on. But the cheers suddenly fell silent when Uceny fell, tripped from behind in her last lap.
Esther Thompson watched it all on a big screen in the High School, "It' sad that that happened, very sad." The audience let out a shout of disbelief when they saw Uceny fall. That was followed by silence. "Wow is all I could say for about five minutes," said Plymouth High School Athletic Director, Roy Benge.
Continue reading at: fox28.com