Queen of the Road Mile Chases Olympic 1500 Berth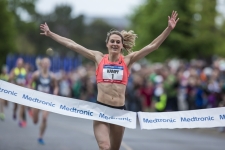 May 28, 2016
"I dropped a lot of time last year in the 1500 and really put myself as a true contender on the track, and that's my primary focus."
By Abigail Lorge, Runner's World
For Heather Kampf, who two weeks ago won her fourth USA 1 Mile road title in dominant fashion, the appeal of the race derives from its simplicity.
"It brings it down to the base level of when you're a little kid and you're like, 'I can run from here to there,'" she says of her specialty. "It's really instinctual. You throw the pace out the window and you just race."
That don't-overthink-it mentality has garnered Kampf, 29, a series of impressive wins:
• U.S. road Mile titles, each worth $5000, in 2012 and 2014–16
• three consecutive Grand Blue Mile titles from 2014–16 (in 2014, the Des Moines, Iowa, race doubled as the national championship)
• a personal best of 4:21, a time she notched twice in 2014.
• and since 2011, 20 road Mile victories
Kampf said her road Miling success is partially a result of her confidence and partially a product of an event that's more forgiving of tactical errors than one taking place on a 200 or 400 meter oval.
Continue reading at: www.runnersworld.com