RBC grad Rob Napolitano was Penn Relays' top Miler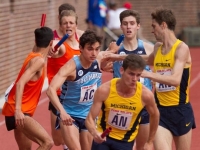 May 02, 2017
The Columbia University senior ran a sizzling sub-4 Mile split at Franklin Field and he's primed to finish college with a flourish.
By Jerry Carino, Asbury Park Press
Over three days last week, there were 212 attempts at the Mile or 1600 meters at the Penn Relays.
No one ran four laps faster than Rob Napolitano.
The Red Bank Catholic graduate anchored Columbia University's distance medley in 3:57.19, one of just three sub-4 splits at the prestigious meet. The senior got the baton way back and picked off several runners. An insanely fast first lap got him going.
"I went out in 54 (seconds) and my mind was totally off," the Brick native said. "I just wanted to chase them. We were really far down but I figured I would take a chance in my last time here."
Continue reading at: www.app.com