Rising Mile star Kyle Merber Q&A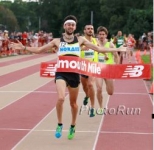 August 26, 2014
The basis is we work hard, we recover and we repeat the process. There are no secrets. But Gags makes you believe in yourself like no one ever has before, and that's what makes him such a great coach.
By The Red Loop
Kyle Merber is the U.S. Collegiate Record Holder in the 1500m with a time of 3:35.59 from his time at Columbia University in 2012. He spent 2013 running for U of Texas, and has since turned pro, now being sponsored by Hoka One One. Kyle was a feature member of the cast of the running documentary 'The Real Maine' produced in 2012. Kyle has had a redemption year in 2014, and is looking to build on his progress for the next cycle of global track championships.
TRL: Mr 3:35 is back in the game. How do you feel about your season? Did you achieve the goals you set out at the beginning of the year?
Kyle: This was definitely the season I was hoping for when I began setting my goals and laying out the plan for the year. Before things really started I had said that I wanted to stay healthy, get my consistency back, set some personal bests, and get over to Europe and learn what the international racing scene is like in preparation for years to come. Despite having a pretty big layover in the middle of the year with an injury, I was able to rebound well and still accomplish what I wanted to for the most part. You should always hope things go perfectly, but be ready and expect to adjust when they don't.
TRL: How does this season prepare you for the upcoming three years of global championships?
Kyle: The biggest thing this season has given me was a sense of confidence that I belong. I know that I can be a factor to make teams and represent the USA the next few years, and that is always the goal. My closing speed keeps improving as I get stronger, and those final gears are necessary in the tactical championship races. But perhaps the biggest asset of this season has been my new partnership with Hoka One One as my sponsor. They've shown that they believe in my career, and to have their support these next few years will be fundamental to making it happen.
Continue reading at: www.theredloop.com