Ron takes a turn for the better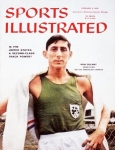 March 16, 1959
"These compliments are very good for a runner. It is what we run for. You know?"
By Tex Maule, Sports Illustrated
Coming into the last turn of Madison Square Garden's 11-lap track, the skinny blond runner had the pole. At his right shoulder and a step behind, Ron Delany matched Istvan Rozsavolgyi stride-for-stride in this last Mile race of New York's indoor track season but did not gain. As the runners came out of the tight turn into the whirlwind of noise which buffeted them down the 20-yard stretch run of the Mile, Rozsavolgyi's right foot skidded slightly on the track. Delany, his pace as steady as a metronome, slipped by as the Hungarian broke stride momentarily. He held his lead and won the race in 4:01.4, breaking by 1.1 seconds the world record the 1956 Olympic 1500 meter champion had set two weeks earlier. Rozsavolgyi, in second place, ran 4:01.8, also under the old mark.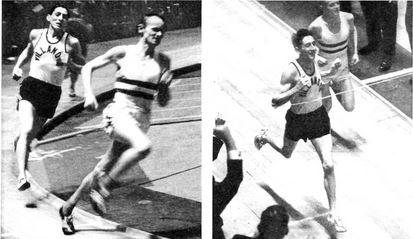 This race provided a beautifully run climax to what has been an extraordinarily exciting indoor track season. A little later, Al Lawrence, Houston University's superannuated freshman (28) from Australia, lowered the month-old indoor record for the 2-Mile, but the race of the meet—indeed, of the season—was the Delany-Rozsavolgyi Mile.
It was a truly classic Mile. It had a sound, strong pace-setter in young Peter Close of St. John's, who set off at a whistling pace and kept that tempo for a full three-quarters of a mile. Delany, who usually lets a fast pace-setter take as much of a lead as he likes, did not lag as far behind as usual, because running a couple of yards behind him was the very dangerous Rozsavolgyi. Barry Almond, another Houston University Australian, was in second place as the field turned the first quarter bunched about 10 yards behind Close. When the announcer called the time—59.1—the crowd howled.
Continue reading at: si.com/vault