RunBlogRun Interview with Sara Brown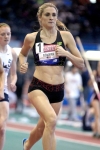 March 25, 2013
By Larry Eder, RunBlogRun
Sarah Brown is one of the top Milers in the U.S. That, is a fact. In high school and college, Sarah Bowman was one of the top middle distance runners in the country. As an elite middle distance runner for the Team New Balance, Sarah Brown has raced across the country, indoor and outdoor, as well as in some of the major meets around the world, chasing fast times and looking to run that perfect race. Her best at 800 meters is 2:02, for 1500 meters is 4:05 and for the Mile is 4:29. In 2010, she raced in the World Indoor Championships, finishing ninth in the 1500 meters.
Sarah Brown answered the 17 questions that Runblogrun.com sent out to elite athletes all over the world, trying to get them to answer questions about their development, their good days and bad. We have fifty replies so far! The seventeen questions give the reader, we believe, a view into what it takes to be an elite athlete.
We hope that you enjoy Sarah Brown's interview...
Continue reading at: runblogrun.com