Running Legend Slaney Settles for Slower Pace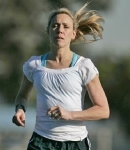 January 30, 2009
By Don Norcross, The San Diego Union Tribune
Mary Slaney wants to run. Not jog. Run.
There is a difference. Jogging is for exercise. Running is for exhilaration. Jogging is comfortable. Running hurts.
But Slaney, America's greatest female middle-distance runner, can't run. Not like she wants. At 50, the legs and feet that have undergone an estimated 35 surgeries hurt too much when she gets up on her toes and pushes the pace.
So she jogs, every other day, five to six miles, at about a 7½-minute pace.
"It's what my body will allow me to do," says Slaney, the only athlete to ever hold every American record from the 800 meters to the 10,000.
Slaney, who lives outside Eugene, Ore., is in San Diego to receive an award at tomorrow night's Competitor Endurance Sports Award banquet at SeaWorld. The honor: Competitor Magazine Running Legend.
Continue reading at: utsandiego.com