Ryen Frazier Finishes High School With Four National Titles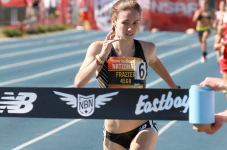 July 02, 2015
After a celebrated prep career that included a Mile PR of 4:38.59, she'll run for North Carolina State in the fall.
By Marc Bloom, Running Times
Athlete: Ryen Frazier
Year: Senior
School: Ravenscroft School
Location: Raleigh, North Carolina
Mile PR: 4:38.59
2-Mile PR: 10:02.86
5000m PR: 16:12.81
Key Workout:
• warm-up jog of 400 to 800, with walking stretches
• 5 x 1000 meters on a trail with 60-second recovery
• ice bath
After sweeping the Mile, 2-Mile and 5000 meters at the high school outdoor nationals, held the weekend of June 19 in Greensboro, North Carolina, Ryen Frazier is set to embark on her college career at North Carolina State, where she will be joined by her older sister, Wesley, a transfer from Duke. Ryen, 18, attended Ravenscroft School in Raleigh with her sister and matched many of Wesley's performances in track and cross country. Ryen has been training with Wesley since Wesley left Duke earlier this year. Ryen and Wesley were both coached through high school by their father, Timothy, and own a dozen national high school titles between them.
Continue reading at: www.runningtimes.com