Sahlman runs his second HS sub-4 at Bowerman Mile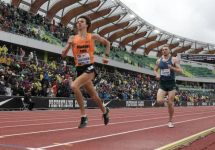 May 29, 2022
"I gave it all I had... It was definitely a great experience. I raced against the best in the world and I ran 3:56. I can't be disappointed with that."
By Joe Curley, Ventura County Star
He was seeded last, spent nearly the entire race trailing the world class field and it was all captured live on network television.
Nearly everything about Colin Sahlman debut on the world stage Saturday afternoon was new to the "high schooler," as the NBC broadcast referred to him.
"It was a different experience from what I'm used to," Sahlman said, "but I feel like handled I well."
The Newbury Park High senior did not leave the Prefontaine Classic at the University of Oregon's Hayward Field without a victory of sorts.
Sahlman ran a personal record time of 3 minutes, 56.24 seconds in the Bowerman Mile and he did not finish last, passing 2016 Olympic bronze medalist and former U.S. champion Clayton Murphy at the finish.
"It's a pretty cool feeling to say that I beat an Olympian and a U.S. champion as a high schooler," Sahlman said.
Sahlman's time, his first sub-4 minute Mile outdoors, was three seconds away from Alan Webb's national high school record, set in the same event in 2001.
It's the third fastest Mile run by a U.S. high school student-athlete.
Jakob Ingebrigtsen, the reigning Olympic gold medalist, won the race in 3:49.76. World champion Timothy Cheruiyot, the silver medalist in Tokyo, was third in 3:50.77.
NBC's cameras caught Sahlman and Ingebrigtsen shaking hands on the track after the race.
"He said, 'Thank you for the race,' " Sahlman said.
He then found some shade to sit down and "throw up a little."
"I gave it all I had," Sahlman said.
Continue reading at: vcstar.com