Sara Vaughn Was the Feel-Good Story of the Summer, But a Sponsorship Deal Eludes Her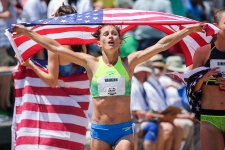 November 25, 2017
"It's not just what you've done, it's what you're going to do. They have to really believe that the future is bright for an athlete like Sara to make that investment."
By Alison Wade, Runner's World
At last June's USA Track & Field Championships, Sara Vaughn stormed from ninth place to third place on the last lap of the women's 1500 meter final. In so doing, she qualified for the World Outdoor Track & Field Championships in London. The meet is track's most prestigious event after the Olympics.
Vaughn's performance was notable, because while most of her competitors are full-time athletes, Vaughn, 31, works at least 20–40 hours per week, sometimes far more, as a realtor in Boulder, Colorado. She's also a mother of three.
Her breakthrough, a triumph for people everywhere trying to fit their running into busy lives, resulted in an outpouring of support from the running community. In London, Vaughn had another strong showing, running a 1500m personal record of 4:04.56 and advancing to the semifinals of the event.
Virtually every other runner who made Team USA for worlds this summer had a contract with a shoe company. Vaughn, however, bought her own spikes for London. Three months later, she remains unsponsored.
Continue reading at: runnersworld.com