Say Hello to Your Newest Sub-4 Guy: Simeon Birnbaum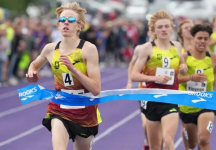 June 15, 2022
Last seated South Dakotan blasts 56 second last lap to become the 17th U.S. prep, 5th this year & third junior sub-4 minutes in the Mile and 12th since BBTM 2012 launch
By Cory Mull, MileSplit.com
Simeon Birnbaum sent big shockwaves through the high school track & field world on Wednesday afternoon.
This one... was an absolute banger.
Now, there have been thrilling, historic high school Mile races this year: Gary Martin soloing an epic high school-only race; Colin Sahlman holding on for the third-fastest prep Mile ever at the Prefontaine Classic; Connor Burns becoming the first junior since Jim Ryun to break 4 minutes and Rheinhardt Harrison lunging at the line for his sub-4 in Florida.
And then there was this kid from South Dakota flying down the homestretch on a purple track on Wednesday.
The junior from Rapid City Stevens (SD) High School -- wearing shades, no less! -- became the second high school junior this year, and the third all-time, to break 4 minutes in the Mile, running 3:59.51 to win the boys championship section at Brooks PR Invitational at the University of Washington in Seattle.
Birnbaum -- who trains at 3,200 feet of altitude in Rapid City -- ran 56.2 on his last 400 meters.
He was in sixth with a lap to go. But somehow, after turning the corner -- as he passed James Donahue and Zane Bergen and Devan Kipyego -- he found another gear and loped into the finish line with absolute abandon.
We thought we had seen it all in 2022. But Wednesday proved again to expect the unexpected.
Consider this: Birnbaum was the last seed in the field. His 4:07.88, which came at the Arcadia Invitational on 2022 -- which was also a new South Dakota record -- was slowest among the 12 race entrants.
Continue reading at: milesplit.com
U.S. high school sub-4 history lists HERE.
Complete race video HERE.