Simpson vs Rowbury Rivalry Grows with American Record in Sight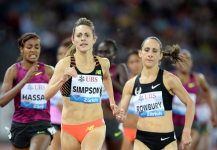 May 29, 2015
Both athletes lowered their 1500m PR last year, now Mary Slaney's American record of 3:57.12 is in sight. Biggest middle distance rivalry since Suzy Favor Hamilton and Regina Jacobs clashed in the 90s.
By Scott Bush, RunnerSpace.com
Down the homestretch come the Americans. Simpson leads, but Rowbury is charging hard, less than 50 meters to go. Simpson looks like she's going to hang on, Rowbury is surging one more time…here comes the line!
Last year, at the end of August, Jenny Simpson and Shannon Rowbury battled to the line in the Zurich Diamond League 1500m, with Simpson literally falling to the win, 3:59.92 vs. 3:59.93, as both runners tripped over each others feet, crashing to the track in dramatic fashion.
One week later in Brussels, Simpson again nipped Rowbury at the tape, this time over 3000m, as Simpson placed fourth to Rowbury's fifth, 8:29.58 vs. 8:29.93.
For Simpson, it's been an exhilarating past few seasons. She's progressively stepped up her performances, winning the Diamond League 1500m crown in 2014, while establishing herself as arguably the best 1500m runner in the world.
Continue reading at: www.runnerspace.com