Sir Roger Bannister coin celebrates 50th anniversary of 50 pence piece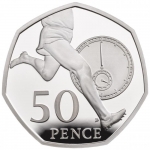 January 15, 2019
"We're delighted to be revealing the special 50p British Culture commemorative coin set to mark this historic anniversary, which features some of the nation's most loved 50 pence pieces."
By Tom Williams, Oxford Times
A rare coin featuring Oxford icon Sir Roger Bannister is helping to mark the 50th anniversary of the 50 pence piece.
The neurologist, who famously ran the first sub-4 minute Mile in Iffley Road, is being commemorated as part of a special set of coins unveiled to mark the occasion.
First released in 2004 to celebrate the 50th anniversary of his historic record-breaking run, Sir Roger is depicted mid-stride as he crosses the finish line in 3 minutes, 59.4 seconds.
The Royal Mint has released the special coins in honour of the 'revolutionary' seven-sided 50p, first introduced in 1969.
It said the designs had been carefully selected to celebrate key cultural milestones and favourite pieces of coin collectors.
Continue reading at: oxfordtimes.co.uk