Six High School Athletes Eye Sub-4 in May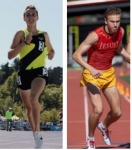 May 13, 2020
The organizers will make sure that the effort is in compliance with official record keeping procedures as well as California group size state mandates
By Cory Mull, MileSplit.com
The outdoor track & field season may be over, but six high school athletes from the west coast have a plan in motion to go after a sub-4 Mile attempt together.
Matt Strangio, Cole Sprout, Thomas Boyden and Leo Daschbach say they will contest a Mile on Saturday evening, May 23 in California, while Nathan Green and Easton Allred are likely attendees but not guaranteed at this point.
Only 10 boys in U.S. high school history, Jim Ryun was the first in 1964, have ever broken 4 minutes in the Mile, though no one has achieved that rare feat since 2017 -- Reed Brown was the last high school boy to break four and did so in an Open field in St. Louis.
This past week, Oklahoma State signee Ryan Schoppe, a soon-to-be graduate of La Porte High School in Texas, soloed a 4-flat Mile on his own.
Two teammates will also take pacing duties.
The group aims to have this attempt legitimized with fully automatic timing and says it will go to lengths to make sure the effort is in compliance with official record keeping.
But logistics will be important, as five athletes will be traveling into the state from other areas of the country.
California governor Gavin Newsom began last week loosening restrictions on areas hit less hard than others in the state, and the sub-4 group says they will travel to a county where "non-contact sports" have been greenlighted in limited groups and "groups of six or less" have been approved. Newsom recently this week began opening up public spaces in various California counties.
The group will limit this attempt to just six athletes to make sure they are within that mandate.
Continue reading at: milesplit.com