Sub-4 Miler Grant Fisher headlines adidas Boys' Dream Mile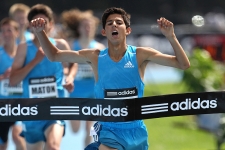 June 09, 2015
Villareal, Brannigan among top HS rivals set for adidas Grand Prix in NYC on Saturday, June 13
From adidas Grand Prix
Grant Fisher, who last week ran 3:59.38 to become just the seventh high school athlete in U.S. history to run a sub-4-minute Mile, will headline the adidas Boys' Dream Mile at the adidas Grand Prix on Saturday, organizers announced today. The deep field features six of the seven fastest prep Milers in the country for 2015, as well as the top three at 1600 meters and the leaders at both 3200 meters and the 2-Mile.
The field will join headliners Usain Bolt, David Rudisha, Blanka Vlašić, Jenn Suhr and Ajeé Wilson at the 11th adidas Grand Prix on Saturday. Backstretch tickets for the event are still available at www.adidasgrandprix.com or by calling 1-877-849-8722.
Since it began in 2010, the adidas Boys' Dream Mile has annually been the deepest high school Mile in the country. In 2012, the top 12 times in the nation were recorded here; last year, the event produced seven of the eight fastest Miles in the country. In 2011, Lukas Verzbicas made history when he won the Dream Mile in 3:59.71, becoming just the fifth U.S. prep runner in history to run under 4 minutes and only the second one in a high school-only competition (also MIle legend Jim Ryun in 1965).
Fisher (Grand Blanc, MI), the defending champion, returns as not only the latest prep Miler to join the exclusive sub-4 club but also as the #2 ranked 1500 meter runner on the U.S. prep list (3:42.89) and a two-time national indoor Mile champion.
He will be challenged by:
Carlos Villareal (Rio Rico, AZ), #3 U.S. in the Mile (4:05.25) and come-from-behind winner of the Prefontaine Classic high school Mile on May 30
Mike Brannigan (Northport, NY), #4 U.S. in the Mile (4:05.78), #1 at 3200m, 2014 national outdoor 2-Mile champion, and runner-up at Prefontaine
Austin Tamagno (Brea Olinda, CA), #5 U.S. in the Mile (4:06.26), #3 U.S. 1500m, adidas Azusa Meet of Champions winner
Jack Salisbury (LaSalle, RI), #6 U.S. in the Mile (4:06.74), 2014 New England indoor Mile champion
Andrew Hunter (Loudoun Valley, VA), # 7 U.S. in the Mile (4:07.15), #1 U.S. 2-Mile (8:52.30); Penn Relays Champion
Avery Bartlett (Chiles, FL), Golden South Classic Champion
Olin Hacker (Madison, WI), 2014 Foot Locker Cross Country runner-up
Philip Hall (South View, NC), adidas Raleigh Relays Champion
Matt Plowman (York, IL), Kansas Relays Champion
Logan Wetzel (Saline, MI), anchored 2015 National Indoor Champion DMR and won New Balance Indoor Grand Prix Mile
Conner Mantz (Sky View, UT), 2015 USATF Cross Country Junior Men's Champion
Joe Klecker (Hopkins, MN), #5 U.S. at 1600m, 2015 State Champion and undefeated this season at 1600m and 3200m
Myles Marshall (Kingwood, TX), 2014 World Youth Olympic Champion, 800m; #1 U.S. indoors 2015 1000m (2:24.23); pacer
Fields for the 2015 Boys' Dream Mile were chosen from at-large bids as well as the winners of five qualifying meets: adidas Raleigh Relays, adidas Azusa Meet of Champions, Kansas Relays, New York Relays, and Golden South Classic.
One of the premier track & field events in the world, the adidas Grand Prix has hosted two World Records and 22 National Records, and its fans have witnessed almost a dozen performances that were the fastest ever recorded on U.S. soil.
The 7th stop on the international IAAF Diamond League circuit, the adidas Grand Prix is in its 11th year at Icahn Stadium on Randall's Island, in conjunction with the Randall's Island Park Alliance. The latest news, photos and information on the event can be found at http://www.adidasgrandprix.com and here on Facebook and Twitter, @adidasgrandprix, #AGPNYC.
For more information, visit: newyork.diamondleague.com