Supporting the Pros: Pittsburgh Steps Up to the Plate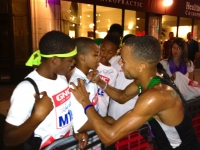 October 08, 2013
Elite athlete support expands to more than $150,000 for its calendar of events: DICK'S Sporting Goods Pittsburgh Marathon, GNC Live Well Liberty Mile and inaugural EQT Pittsburgh 10 Miler
By Scott Bush, RunnerSpace.com
With the news of Competitor Group limiting their support of professional runners last month, fans, athletes, agents, coaches and media have debated, dissected and discussed some of the major financial struggles the sport is dealing with. While some news is less than encouraging, other news shows the investment in professional running is far from gone.
Take the Dick's Sporting Goods Pittsburgh Marathon, for example. Shortly after the depressing Competitor Group news broke, the Steel City organization announced the inclusion of a $10,500 prize purse for their new EQT Pittsburgh 10 Mile. On top of that, their total elite prize purse for their year-round slate of events topped the $150,000 mark.
We caught up with Dick's Sporting Goods Pittsburgh Marathon executive director Patrice Matamoros recently, discussing her organizations support of professional runners, what their goals are as an organization and how the EQT Pittsburgh 10 Mile is shaping up. This is a must read!
SB: With such an investment in the top runners, how do you incorporate them into your events?
PM: Our goal is always to engage the top runners in our events with the Pittsburgh community. Doing this creates a fan base, and makes the athletes feel part of the community.
At this year's GNC Live Well Liberty Mile, Jordan McNamara served as an honorary coach for the Summer Dreamers Academy, a Pittsburgh Public Schools program that includes a youth summer running component. Nearly 180 elementary and middle school students in the program received coaching, training plans and running gear. While McNamara was training for the event, he sent motivational videos to the students, as they were completing their 5-week training program for the event.
During race week, Jordan arrived several days early to meet the kids at their final training run. After the kids complete their training, they ran the first wave of the GNC Live Well Liberty Mile and then cheered on Jordan.
When you make athletes feel part of the community, they start to feel a loyalty to your race and the city. Engaging athletes in the community is a win for everyone.
Continue reading at: runnerspace.com