Taste of success has given Wightman hunger for more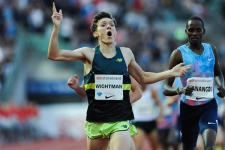 October 28, 2017
"I've always seen him as my coach [his father] because he knows me better than I do. He knows exactly what works."
By Cathal Dennehy for the IAAF
The Las Vegas Strip, at 6:00am on a Saturday morning, is not the kind of place you expect to find a world class athlete.
At that time, it's populated mostly by drunks and gamblers, the neon glow yet to dim on the city's Friday night lights.
In recent weeks, however, those making their way home through the dawn haze were met with an unusual sight: Jake Wightman, one of the world's best Milers, hurtling down the sidewalk, slicing a path through the crisp autumnal air.
The 23-year-old had travelled to Vegas for a pre-season gathering with his agency, Global Athletics & Marketing, and after finding himself wide awake long before the sun had risen, decided it was as good a time as any to hit the streets for a tempo run followed by some 60-second repetitions.
"People were jeering as I was going past," he said. "There were lots of them still on their nights out."
Weeks before Wightman had been just like them, blowing off steam on his end-of-season break, but as all great athletes know: you can't soar with the eagles by day if you continue to hoot with the owls at night.
Continue reading at: iaaf.org