The Milers: Gabriele Grunewald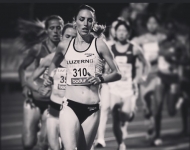 September 10, 2015
Hometown favorite goes for Minnesota Mile win on Sunday; perserverence and the quest for the perfect Mile
By Bring Back the Mile
Whether it has been injuries, cancer or politics, Gabriele Grunewald of Team USA Minnesota has not only perservered, but thrived as a professional Track & Field athlete. She has dropped her 1500m time to 4:01.48, which in almost any other generation of American women would all but guarantee her spots on Olympic and World Championship teams. She has also notched the fastest Mile ever run by a woman in Minnesota at the 2013 Minnesota Mile in 4:21.3 where she returns this Sunday for another go on the streets of Duluth.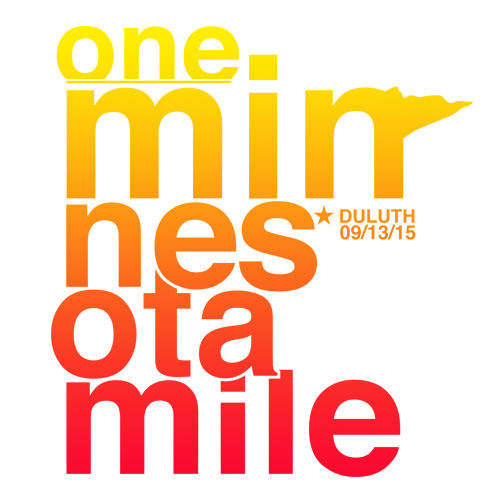 Grunewald enters Sunday morning's Minnesota Mile in Duluth, MN, as the fan favorite and took time to answer questions for BBTM about the Mile opportunities, American middle distance women, taking a stand at the water in Minnesota.
BBTM: You're chasing a nice prize purse at the Minnesota Mile this Sunday as well as your own personal best set in Duluth at 4:21.3 in 2013. How are you feeling and what your goals Sunday morning?
Gabriele: I'm feeling really good going into this year's Minnesota Mile. I wasn't able to do a couple of these fall road Miles last year as I was still in Europe competing on the track, so I'm quite eager to get back out on the roads and have some fun! I've put in a good training block since my last race and I'm looking forward to ending 2015 on a high note with this race and the CVS 5K next week. My goal for Sunday is to get the win and, if the conditions allow for it, take a crack at my personal best from two years ago!
BBTM: In what ways does the increased opportunities for Milers on the road and track help professional athletes in regards to exposure and of course financials?
Anytime there are more opportunities here in the U.S., it's a really good thing for all of us professional runners. With the BBTM circuit and other races popping up each summer it has really helped create a much-neeed 'summer schedule' for the mid-distance professionals who might not be in Europe and are looking to keep things rolling through September. The races putting up prize money and travel funding are really helping to keep the aspiring professionals in the sport and also giving a good incentive for those at the top to consider racing and attract more fans -- so I think these races have filled a void and it's great!
BBTM: You've been on fire for the last couple of years, in arguably the greatest generation of middle distance American women. What is that like to not only compete against the best in the world and be a part of this American resurgence?
It has been really fun and exciting to be a part of this particular era of American middle-distance running. I know that competing against the best is the greatest way to find the best in yourself, so it's been special to keep reaching for the top among the best in the world -- many of whom are Americans! With our current depth, you've got to always bring your 'A' game and I think that's a good thing. With Americans doing so well on the world stage over the last few years it has just inspired everyone to keep pushing and rethink what we are capable of.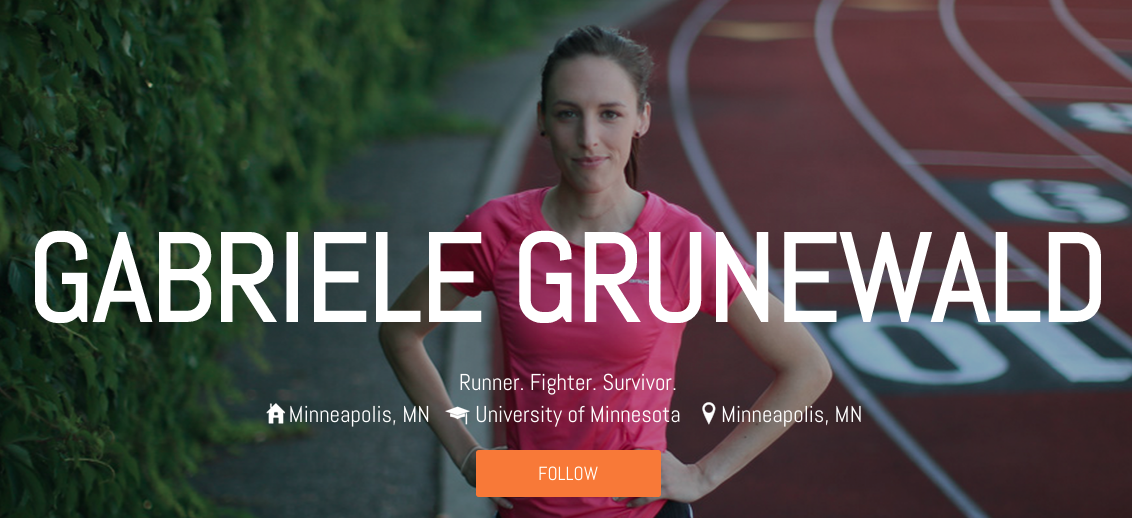 Grunewald's Athletebiz Profile Page
BBTM: You have also been in the middle of controversy after the 2014 USA Indoor Championships, gaining support from your fellow athletes. What role do the athletes themselves play in fighting for greater transparency in our sport and certain rights, which seem to be an ongoing battle since the days of Steve Prefontaine?
I felt really fortunate to have the support of fellow athletes in 2014 -- it really showed the strength of a collective voice within our sport. That specific event seems to have hit a nerve in terms of athletes starting to speak out and taking a greater interest in expanding and protecting our rights at the national and international levels -- a conversation that has been ongoing since Pre's era and isn't over yet. It is encouraging to see high-profile athletes like Nick Symmonds taking a stand and not being afraid to challenge the status quo. I think we will continue to feel emboldened going forward. Looking to the 2016 Olympic year, I'm interested to see how the IOC's modified Rule 40 will be implemented.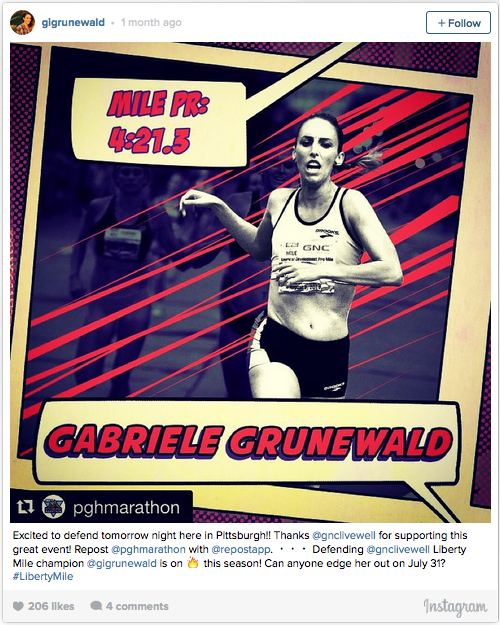 BBTM: Personally, you have fought battles ranging from collegiate injury to overcoming cancer in 2009. What advice would you give to other female athletes in High School and College on perseverance?
I think my best advice would be: just decide to persevere! We are all going to have setbacks and disappointments in our lives, personal or professional, and we find out who we are when we face those challenges and carry on. You've got to believe that the best is yet to come -- that simple hope in the future has fueled me through many ups and downs.
BBTM: What's in the water in Minnesota to have such a great group of current Milers hail from the Land of a 10,000 Lakes?
I'm not sure -- but I love it! I'm going to make something up and attribute it to our strong Scandinavian work ethic and also the resilience it takes to survive a winter in the North. Mainly, Minnesota is just an awesome place to grow up and live, I'm not surprised so many awesome runners come from my great state!
BBTM: What did you want to be when you grow up?
If I'm being perfectly honest, it changed every other week. A lawyer. A professional golfer. A fashion designer. A teacher. I had extremely varied interests as a kid!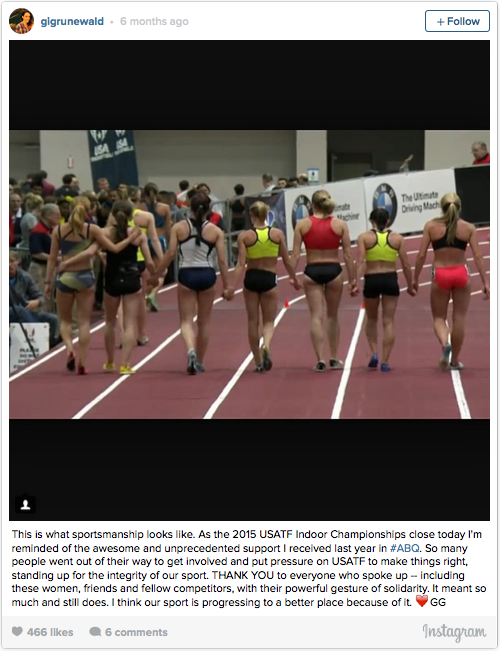 BBTM: What do you want to be now when you grow up?
I'm looking forward to figuring that out over the next few years! I am hoping motherhood is in my future, as well as taking my Master's degree out of hibernation and possibly working for a local nonprofit or in cancer research advocacy. I am also definitely planning to explore coaching at some level.
BBTM: How did you initially get into the sport of Track & Field?
I am fortunate to come from a very active family with parents who encouraged me to try all sorts of sports when I was young. I first remember enjoying running at our annual "track & field day" (or at least that's how I remember it) in elementary school. We also had an organized cross country running program for kids as young as 4th grade, and I'm pretty sure the rest is history.
BBTM: How do you define being a "Miler"?
I think being a Miler just means embracing the unique beauty and pain of a well-run 1609-meters -- and always continuing the quest for "The Perfect Mile."
BBTM: Best Mile moment so far?
So far, I think my best Mile moment was when I ran 4:21 at the Minnesota Mile in 2013. I wasn't expecting to run that fast but it was pretty fun to get close to the 4:20 barrier. I'd love to run a fast Mile on the track -- so hopefully my perfect Mile is yet to come.
Thanks Gabe and good luck in the Minnesota Mile!