The Milers: Rachel Schneider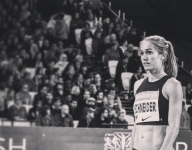 August 20, 2015
Rising star, a NACAC gold medalist, Georgetown alumna and inaugural Boxcar Mile champion, enters Michigan Mile in Flint, MI as an event favorite
By Bring Back the Mile
2015 has been quite the year for Hoya, Rachel Schneider, kicking off the season with a bronze medal at the USA Indoor Championships in the Mile with a personal record 4:30.62 and taking home the gold at the NACAC Cup for Team USA in Costa Rica in July. While a relative unknown, Schneider, 24, has quietly moved up the ranks of an incredibly deep group of American Milers notching a 5th place finish at the 2015 USA Outdoor Championships kicking down the likes of Treniere Moser, Heather Kampf and Mary Cain.
A multi-NCAA All-American at Georgetown University, where she still trains, and a member of the 2010 IAAF Junior World Championship team, Schneider has built a support system that includes Coach Mike Smith and Julie Culley as well as mentors such as Lynn Jennings and corporate sponsor Under Armour. She fell only .40 seconds short of achieving an IAAF World Championship "A" standard in July (would have been the 15th American to do so), setting a 1500m best of 4:06.90, finished 3rd at the GNC Live Well Liberty Mile in Pittsburgh and followed all that up with a win at the inaugural Boxcar Mile in 4:31.04.

Schneider enters Friday evening's Michigan Mile at the Crim Festival of Races in Flint, MI, as one of the favorites. She answered questions for BBTM about her path to becoming a professional athlete, hanging with monkeys in Costa Rica, barrelling in Hawaii and the difference between the track vs. the roads.
BBTM: Let's begin with getting to know Rachel Schneider. How did you initially get into the sport of Track & Field?
Rachel: Ah this question! Definitely have to give all the credit to my older siblings, especially my sister. I'm the youngest of four and have always really looked up to Brian, Kathy and Kevin. When I was really young I would be "forced" to go to all their games and meets – which was fun, but I couldn't wait to be able to participate. They all ran track in Junior High and Brian and Kath ran in High School, so pretty early on I knew I wanted to too. In 5th and 6th grade I did a summer track program in which my sister was the coach – even though it mainly consisted of playing capture the flag at practices – it was a blast and I developed an early love for it.
For many, you are a new face, after an epic 1500m final at this year's USA Championships, but you were a member of the 2010 IAAF Junior World Championship team and an All-American at Georgetown. Who is your current coach and do you have any training partners that keep you going every day?
Mike Smith is my current coach. He's coached me the past three years – my last two years at Georgetown and my first post-collegiate year. He's really developed me as a runner, and is just an overall incredible coach and person. I trust him 100% and feel really fortunate to be able to continue working with him. I love that I also get to keep working with the Georgetown team and frequently train with a bunch of my friends.
Georgetown has a rich running history and currently has an amazing group of very talented, hard-working women (and men) who are poised to do big things this year. On top of that, Julie Culley has been coaching and working with the team and she's been an amazing training partner for me. Really love working with her and am learning so much about the professional running world from her. When my schedule doesn't line up with the team or Julie's, I would run/workout alone – but always under the guidance of Mike. Overall it's been a very easy/smooth transition from college running to running professionally.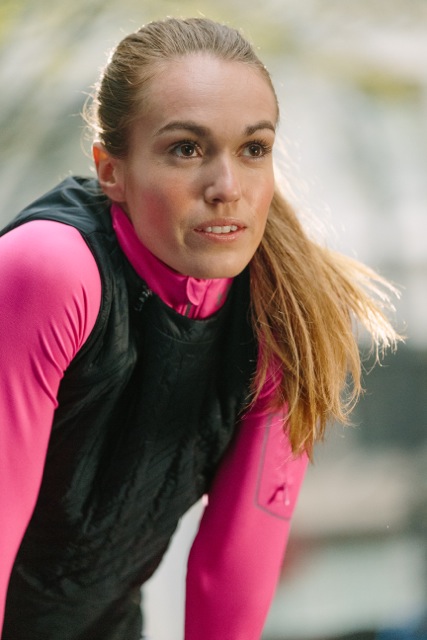 You signed with Under Armour as a professional athlete, a brand close to your home and one that is investing more and more in Track & Field / Running. What is it like as a professional to be part of #TeamUA?
Being a part of Team UA has been such an honor and truly feels like I'm living in a dream. The people who work at Under Armour have such passion, drive, enthusiasm, and genuinely care about everyone on their team. It has an amazingly small family feel, yet at the same time you have this feeling of being a part of something incredibly big with industry-changing visions and the power to positively impact countless people. Under Armour is relatively new to the running scene, but the team they have working on UA Run is doing a phenomenal job and it's so fun to be a part of.
Under Armour has an amazing history of growth, and I have no doubt they'll be successful on the running scene. I love the innovations they've recently made on their running shoes. I honestly couldn't feel more supported. It's super collaborative and all sides are working at helping each other be the best – they do everything they can to help me be a better runner, and my Under Armour teammates and I give feedback on products and try to do the best we can to represent the brand. Being a part of the team has been an incredibly positive experience and I can't wait for what lies ahead.
You're part of one of the greatest generations of American women middle distance runners; arguably the best in the world. What does it mean to be a part of this depth, success and community of U.S. Milers?
It's an amazing time to be an American women middle distance runner! There's an unbelievable amount of depth and I'm constantly being motivated by what American runners are accomplishing. I've had the honor of knowing Lynn Jennings for a few years now, and her story of being one of the pioneers in women's running and one of the most decorated American runners is so inspirational. It's exciting how much the sport has grown since Lynn's time as a professional runner and I feel lucky to be a part of this generation that has so many incredible athletes pushing each other to be the best they can be. U.S. running has a big presence on the world stage and I strive to be up there with the best of them.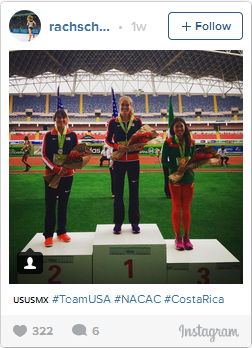 What does the gold medal for Team USA at NACAC in Costa Rica mean to you?
The gold medal for Team USA at NACAC in Costa Rica meant a lot. It's always an honor to represent the U.S. This meet was particularly special because Team USA brought home the gold and silver in both the women and men's 1500m and all four of us got to do a victory lap with the American flag together. There's nothing as special as running around the track with the American flag and hearing our country's national anthem. I hope it's the first of many times!
Thinking of adopting a monkey now after hanging out with them in Costa Rica?
Hahahah! Oh man – those monkeys! They're so cute and playful – but I wouldn't recommend climbing up the side of their cage! I think I'll adopt a dog first.
You had a 3rd place finish at the GNC Live Well Liberty Mile in Pittsburgh and won last weekend's inaugural Boxcar Mile in 4:31 on the track. Next up is the Michigan Mile on Friday evening in Flint, MI on the roads again. What's the biggest difference between the track and the roads?
To me - the track is so predictable and comfortable. No matter the location or track, there are always four equal laps and I usually have a laid out strategy of what I want to do during each lap. Track miles are familiar no matter where they are.
Each road Mile, however is different. The course might have twelve 90-degree turns, or be a straight shot. There might be inclines/declines, or potholes, or routes that are more direct. Strategy is also different and I think there's more of a learning curve and advantage to having experience.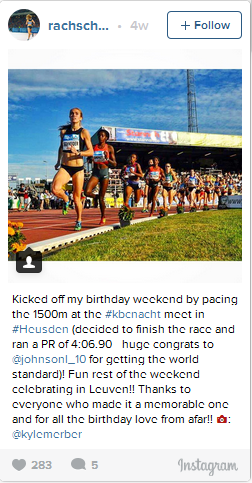 How does your mentality or race strategy alter from the track to the roads?
I'm really still figuring the roads out. This Friday will only be my third road Mile so I definitely still feel like a rookie. (At the GNC Live Well Liberty Mile I ended up leading the whole race until the last ~300m – around 700m to go you can see the finish line and I remember thinking "There it is! Sprint!!" I definitely started my kick too early and tied up at the end). Right now I'm mainly just having fun on the roads – coming off a long track season with a lot of racing, my legs are pretty tired, so I'm not putting much pressure on any certain outcome, or going in with a concrete strategy. Just trying to accumulate experience, while having fun and giving my best effort that day.
What is driving you in the morning to get out and train?
Ah I love running. I could go on for pages about what I love about the sport but I'll try to keep it short. Ultimately it makes me feel more alive than anything else can and has introduced me to so many incredible people and opened up unbelievable opportunities. I love that it constantly challenges me, and while I don't necessarily love it every day (I think every runner has days where they just feel tired or unmotivated and would rather by lying on the couch), there's never a day I take running for granted. If I ever do need a little extra motivation, I just think of the women I want to be competing with, the ones making world teams and breaking records, and I know that they're doing everything they can to be at that level and I need to too.
You have degrees in Human Science, Philosophy & Sports Industry Management. What did you want to be when you grow up?
Hmm...well that's changed over the years. When I was younger I always thought I'd be a veterinarian because I absolutely love animals, but then I job shadowed and realized I didn't want to "fix" animals or put them down and it'd probably just be better to adopt a bunch of animals! Throughout most of college I was thinking of becoming a Physical Therapist (hence the reason I majored in Human Science). I still think I'd really enjoy a profession in Physical Therapy (my sister's a PT and really loves what she does!) – but I also really liked the Masters program I did, and can now see myself potentially pursuing a career in the Sports Industry. Fortunately I'm hoping my running career lasts for quite a few years and I don't have to decide any time soon!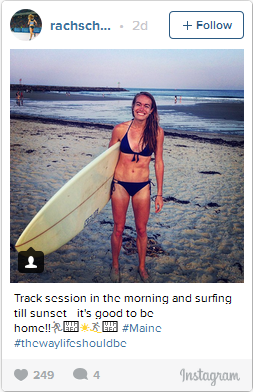 Seems like you surf occasionally. Have you made it into a barrel yet?
Hahah ah I wish! I think I've been "surfing" since I was five or six years old. Growing up twenty minutes from the ocean, my Dad introduced the sport to my siblings and I pretty young. Unfortunately the waves (and water temps) in Maine aren't ideal – usually super small. I've never hit a barrel, and I'm honestly not that good at surfing! I can stand and turn my board, but I'd probably get pummeled in waves over eight feet! For awhile now I've told myself that someday I'd get good enough and surf Hawaii – looking forward to that!
Thanks Rachel and good luck in the Michigan Mile!