The Miracle Mile 1954: A Moment in Time Prints Available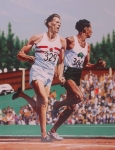 December 12, 2017
Limited number of Bannister-Landy signed prints so order this Mile collectible today!
It has come to Bring Back the Mile's attention that a limited number of autographed prints of "The Moment" when John Landy turned the wrong way as Roger Bannister passed him in the home stretch to win "The Miracle Mile" at the 1954 British Empire & Commonwealth Games in Vancouver, Canada are available. This epic race was the first time two men in the same race went sub-4 minutes in the Mile, 3:58.8 and 3:59.6, respectively.
Purchase "The Moment" Print
A limited, unframed supply of the 1,954 limited edition prints remain and are available for purchase. These lithograph prints are 33" x 26" in size and include a 3" white border on top and bottom (where the signatures of Bannister and Landy are located) and a 2" white border on the side. The prints are numbered and each comes with signed letter of certification.
Price as follows while supplies last: Unframed and signed with original autographs by legends Roger Bannister & John Landy and artist Frank Crymble = $195.40 Canadian dollars
To order and for payment information, contact Tom Locke at tomlocke@hubcs.com, and for free shipping / handling in North America (save $20), mention code BBTM54.
Find more information at: miraclemile1954.com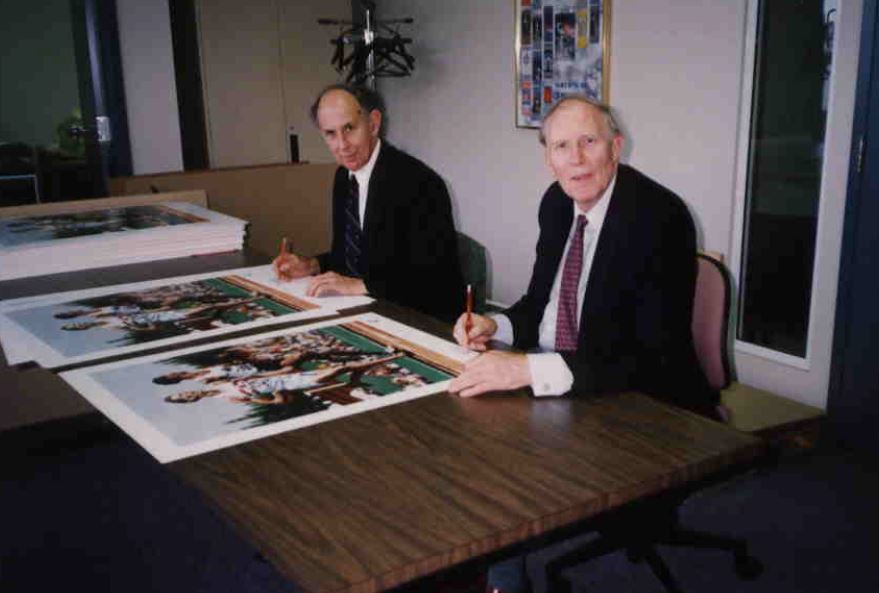 Mile legends John Landy (left) and Roger Bannister signing "The Moment" prints in 1993.