The Peter Elliott interview: How silver still bothers an Olympic man of steel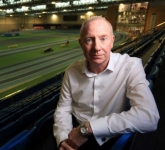 January 29, 2018
Best ever race? "Winning the Commonwealth Games. I'd visualised how the race would go and had dreamed about it a lot. Nobody could beat me."
By Paul Davis, The Star
Peter Elliott had flown out to Seoul in South Korea in 1988 a troubled man as a national newspaper campaigned against his Great Britain selection for the 1500 meters ahead of reigning champion Sebastian Coe.
He injured himself while out there. He needed injections in his abdomen just so he could warm up. He ran seven races in nine days as he was also entered in the 800 meters.
Coming second was a near-miracle, Elliott's finest ever achievement on a running track. He finished only one place out of the medals in the shorter of his two events as well. Yet he traveled wearily home to Rawmarsh in Rotherham ready to retire.
"My memories are tinged," he recalls. "There was all the controversy that surrounded it. I went out there under a cloud. It took me until 2000 to appreciate that medal.
"I was disappointed with the silver. I'd dreamed of being an Olympic champion since I was a kid. I had a pain in my abdomen before the final of the 800 meters and had to have an injection. The rounds of the 1500 meters came after. I'd jog, stretch, have another injection, do my strides, then race.
"I came back and thought my career was over."
Today, Elliott MBE is 55 and a leading figure in the provision of sports medicine & science for athletes on the United Kingdom's 'World Class Performance Program' who are targeting the Olympics, Winter Olympics or Paralympics.
Continue reading at: thestar.co.uk