Top Fields Set for 2018 USATF 1 Mile Road Championships at Grand Blue Mile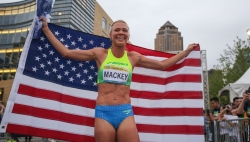 April 12, 2018
Katie Mackey to defend women's national title; $25,000 guaranteed national championship purse with $5000 for each national champion; also the Bring Back the Mile Grand Prix #Tour2018 season opener
From Grand Blue Mile
DES MOINES, Iowa - Grand Blue Mile race officials have announced the fields for the 2018 USA Track & Field 1 Mile Road Championships set for Tuesday, April 24 in Des Moines. A world class group of runners will headline the event along with approximately 3,000 participants in recreational and amateur competitive divisions. The 9th event edition also opens the Bring Back the Mile Grand Prix Tour 2018, featuring 5 leading U.S. events from across the country.
"We're confident the fields we've recruited for these championships will thrill even the most casual fan," said Chris Verlengia, Wellmark Blue Cross® and Blue Shield®'s senior brand marketing manager and Grand Blue Mile official. "These athletes embody the true spirit of the Grand Blue Mile: a commitment to healthy habits and the perseverance to achieve their goals. You don't have to be a runner to be inspired by their stories."
This year's race features a top prize of $5000 each for the men's and women's USA champions with the potential to earn an additional $2500 for setting a new course record — currently 4:00.0 (Clayton Murphy, 2017) and 4:32.7 (Heather Kampf, 2014), respectively. Overall, $30,000 in prize money will be contested across the men's & women's championship divisions. Vying for the national title and a share of the prize purse are Olympians, world champions and past event champions, including:
USA Men's Championship
Leo Manzano
• 2012 Olympic silver medalist (1500m)
• 2-time USA Outdoor 1500m Champion (2012 & 2014)
• 2014 USATF 1 Mile Road Champion (Grand Blue Mile)
• Mile personal record: 3:50.64
Garrett Heath
• 2-time USATF 1 Mile Road Champion (2013 & 2015)
• 8-time NCAA All-American (Stanford University)
• Mile personal record: 3:51.0 (road)
Riley Masters
• Big 12 1500m Champion (2012)
• Grand Blue Mile finishes: 4th in 2015, 3rd in 2016, runner-up in 2017
• Mile personal record: 3:55.8 (road)
USA Women's Championship
Katie Mackey
• 2017 USATF 1 Mile Road Champion (Grand Blue Mile)
• 2018 World Indoor Championships finalist (3000m)
• Mile personal record: 4:23.5 (road)
Brenda Martinez
• 2016 USA Indoor Champion (1500m)
• 2013 World Championships Bronze Medalist (800m)
• Mile personal record: 4:18.4 (road)
Shannon Osika
• 4th place, 2017 USATF 1 Mile Road Championship (Grand Blue Mile)
• 6-time NCAA All-American (University of Michigan)
• Mile personal record: 4:25.1 (road)
Current Start List (by alpha last name)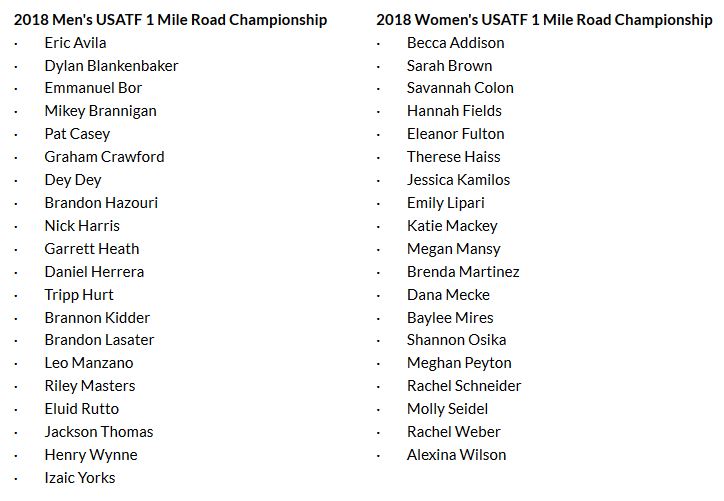 Set the Pace Challenge
A reminder that it's not just the elites competing for prize money. Communities have a chance to win $10,000 to use on a project that promotes safe and accessible places in which to be active, such as a park, playground or trail. The community with the highest percentage of its residents participating in GBM — measured by the number of registrants for a given ZIP Code against its total population — will be awarded the $10,000 as part of the Grand Blue Mile - Healthiest State Initiative's Set the Pace challenge.
Register today!
Registration for the Grand Blue Mile is open and costs $20 for youth (ages 17 & under) and $25 for adults until April 21. Event proceeds support Iowa Kidstrong school-based fitness programs and the historic Drake Relays. Visit GrandBlueMile.com to register, view the new course map, find training tips and get spectator information.