Uceny on Kenya: "It Makes You Realize"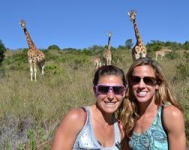 February 22, 2013
By Barbara Huebner, NYRR News Service
By most measures, Kenya is a long way from Indiana. But not by every measure.
"Training in Kenya just makes you realize that you don't need to have extraordinary means to be a good athlete," said Morgan Uceny, who spent many of her summers in Plymouth, IN, helping her bricklayer father or washing buses for her mother, an assistant in the school transportation department. "All you need is a pair of decent trainers, some natural talent, and the work ethic to turn that talent into something greater."
Uceny, a 2012 U.S. Olympian who was ranked No. 1 in the world at 1500 meters in 2011, relocated last fall to Loughborough, England, after her Mammoth Track Club coach, Terrence Mahon, joined UK Athletics as its endurance coach.
Continue reading at: nyrr.org