Uceny set for finals showdown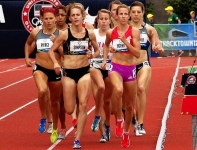 June 30, 2012
By Tim Creason, South Bend Tribune
EUGENE, Ore. -- There's an epic battle shaping up for the championship of the women's 1,500-meter run at the U.S. Olympic Trials.
It will be defending world champion Jenny Simpson vs. defending national champion Morgan Uceny -- the No. 1-ranked 1,500-meter runner in the world last year -- when the final begins at 7:23 p.m. Sunday.
NBC will broadcast the race live.
The long-awaited matchup became a reality when both runners advanced from their semifinal heat Friday at the University of Oregon's Hayward Field.
"It's hard to say how it will play out. We'll just have to see," said Uceny after she won her semi in 4:08.90, with Simpson just a couple of steps behind (4:09.12).
Continue reading at southbendtribune.com