Unbridled Talent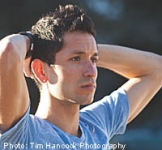 March 17, 2013
After early exploits and dramatic downfalls, German Fernandez looks for stable success as a pro.
By Matt McCue, Running Times
German Fernandez is struggling to keep pace. It's an unusual position for the 22-year-old, who dominated at Riverbank High School in northern California and then posted workout times at Oklahoma State that his former coach, Dave Smith, thinks will never be broken.
But this isn't high school or college -- it's the Nike campus in Beaverton, Ore., where, at 10 a.m. on this weekday morning in October, the fitness center is packed with employees decked out in Swoosh apparel. Music is blasting from a Spin class, the weight room is crowded and the machines are full. It's as if everyone is training for the Olympics, and yet the only real pros are in the upstairs yoga room where Oregon Track Club strength coach, Pascal Dobert, leads Fernandez and his new teammates, Chris Solinsky, Evan Jager, Tim Nelson, Simon Bairu and Brent Vaughn, through an hour's worth of pre-rehab exercises.
Continue reading at: runnersworld.com