USA 1 Mile Road Championships Field Set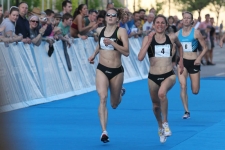 April 11, 2013
Two-time Olympians Manzano, Rowbury headline field; $30,000 national championship prize purse
By Lance Bergeson, Des Moines Register
The elite fields for the 2013 USA Men's and Women's 1 Mile Road Championships on Tuesday, April 23 in Des Moines will feature an Olympic silver medalist.
Leo Manzano, whose strong finish earned him second place in the 1500 meter final at the 2012 London Olympics, has committed to racing for the top prize of $5000. Manzano is a nine-time NCAA All-American at the University of Texas and two-time Olympian.
Two-time Grand Blue Mile champion Sara Hall and two-time Olympian Shannon Rowbury highlight the women's field.
Hall won the Grand Blue Mile the past two years and is a seven-time NCAA All-American at Stanford. She is also the 2011 USA 1 Mile Road champion.
Rowbury qualified for the 1500 meter final in the both the 2008 and 2012 Olympics. She is a former six-time NCAA All-American at Duke.
The Grand Blue Mile is an annual event sponsored by Wellmark Blue Cross and Blue Shield and the Drake Relays.
Continue reading at: desmoinesregister.com