Wanamaker Mile Legend Coghlan Returns to NYRR Millrose Games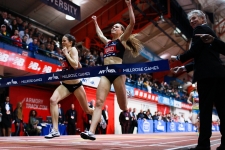 February 07, 2018
"In terms of the crowd participation (The Armory was sold out to its 5,550 capacity) and the noise I heard, standing in the middle of that arena there as they ran that NYRR Wanamaker Mile, it was exactly the same (as Madison Square Garden.)"
By Elliot Denman for The Armory Track
"The NYRR Millrose Games and the Wanamaker Mile, they're alive and well."
Take that from a man who should know – Eamonn Coghlan, the erstwhile "Chairman of the Boards" who won the classic Wanamaker Mile seven times, the first in 1977, the last in 1987. He ran a glory-filled romp through an era in which indoor track still ranked as a major spectator sport and whose exploits nearly personally filled Madison Square Garden time after time.
With no Coghlan on the scene in the years that followed his brilliant career at Villanova University, and then as an international runner – and finally as a Masters runner (he ran 3:58.15 at age 41 in 1994) – indoor track's status as a spectator sport began a downward spiral and would eventually prove untenable at Madison Square Garden and other big-city arenas.
Although the scene of many epic races, the Garden's 11-laps-to-the-Mile banked board track was clearly slower than the 200 meter built-for-speed oval by then installed at The Armory in Washington Heights.
Still, many speculated that the Millrose Games' inevitable move uptown to The Armory in 2012 represented the death knell of both the Millrose meet and its always-spotlighted Wanamaker Mile.
Fortunately, not Dr. Norbert Sander, the late-great visionary whose incredible efforts restructured The Armory from homeless shelter to brilliant center of world class track & field activity. And, fortunately, not Coghlan, the Flying Irishman and runner most identified with the glory years of the Millrose Games and Wanamaker Mile at Madison Square Garden (with his eighth Wanamaker Mile win in 2010, Bernard Lagat bested Coghlan's total of seven; Coghlan's quickest at Millrose was 3:53.0 in 1981, Lagat's 3:52.87 in 2005).
Yet another tradition, in the years since his last race, is a Coghlan visit from "across the pond" to the storied Millrose meet.
Continue reading at: armorytrack.com