West High's Gardarsson eyes school records, 4-minute Mile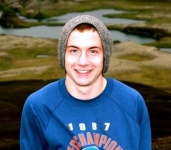 September 10, 2013
A celebrity I resemble is: Steve Prefontaine; my favorite pro athlete: Galen Rupp
By Nick Fetty, Iowa City Press-Citizen
For some people, their craziest ambition may be to go skydiving or to swim with sharks. For West High senior Daniel Gardarsson, his craziest ambition is to run the Mile in under four minutes.
"I was right around 4:20 last season, but I was struggling with some injuries," Gardarsson said. "I didn't even personal record for the Mile last year. I've gotten in way better shape now, so I'm looking forward to this season."
Gardarsson is one of the top runners for the West High cross country team. Not only does he want to run the Mile in under four minutes but he also wants to set West High school records for cross country his senior year.
"My biggest personal goal for the season would be to win an individual title at state," he said. "The school record is definitely within my reach. I'm just going to have to see how the races play out and try to stay as healthy as I can."
Continue reading at: www.press-citizen.com