Why Not Me? Gabe Grunewald on Surviving Cancer and Running Pro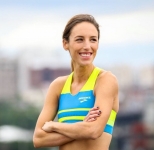 January 13, 2017
"Instead of being afraid of failure, I was thinking, Why not me? It changed the way I viewed myself and my opportunities, and my first season of racing after cancer opened the door to professional running."
By Salty Running
Gabriele Grunewald, Gabe to her friends, is a professional runner and three-time cancer survivor.
Yes, you read that correctly. In fact, it was her first bout with cancer that inspired Gabe to see how far she could go in running. Before that, she never really thought a professional running life would be possible for her. But surviving cancer made her focus and she adopted a "Why not me?" attitude. We've been so inspired by Gabe's courage, openness and determination in despite of all her obstacles and we know you will be too!
Gabe, now 30 years old, from Perham, MN, is a middle-distance specialist on the track. She began as a walk-on at the University of Minnesota, running for the Golden Gophers under her coach Gary Wilson. In her second to last college season, at just 22 years old, she received her first cancer diagnosis.
Continue reading at: www.saltyrunning.com