Wilde Lake's David Eisenhauer: Howard County boys indoor track Athlete of Year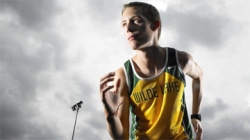 April 12, 2015
"I didn't really want to run distance until one time I made my coach mad and he stuck me in the Mile and I broke the 7th-grade school record."
By Tim Schwartz, The Baltimore Sun
Coming from Yakima, Washington, about 2,700 miles from his current home in Columbia, Wilde Lake senior David Eisenhauer didn't know what to expect.
His first thought at seeing his new school before his first day of junior year was, "this thing is massive."
"I came from a high school with about 83 kids at the whole school, 26 in my grade," said Eisenhauer.
It didn't take Eisenhauer, the Howard County Times' Columbia Flier Indoor Track Athlete of the Year, long to adjust to his new surroundings — especially when he was running.
Less than three weeks into his first school year in Columbia and in his first ever cross country race here, he finished third at the Howard County Invitational. It was a coming out party for everyone — his coaches, teammates and competition.
"I have a picture of me going up the starting hill in first place, and River Hill's Chris Heydrick and Mt. Hebron's Ben Weinstein are looking at each other with these shocked expressions on their face like, 'Who is this kid?'" he said.
Continue reading at: www.baltimoresun.com