Williams runs Princeton's fourth ever sub-4 minute Mile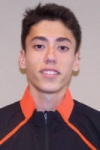 February 09, 2014
"It's definitely one of the top running moments of my life."
By Adam Fisch, The Daily Princetonian
Charging into the final lap of the third heat of the Mile race at the Boston University Valentine Invitational Saturday, senior Michael Williams was in excellent positioning. With only 200 meters to go, Williams was in third place, and the clock read 3 minutes, 32 seconds. Closing the final circuit in 27 seconds, Williams let loose a huge kick to take first place and stop the time at 3:59.63 — crashing through the revered four-minute Mile barrier.
"I was coming down the home straightaway and looked at the clock, saw 3:56, 3:57 and thought, 'Holy … I think I can get this,'" Williams said. "I leaned at the line, and the crowd went nuts. I looked at the board, saw 3:59, and went crazy."
Coming into the race, Williams did not have any high expectations. After running a series of subpar races for himself earlier this indoor season, he came in just wanting to be competitive in his heat and run a decent time. After breaking off the line and fighting for a position in the pack, Williams quickly decided he would settle in and let the race come to him.
"Fifty meters in, I remember my coach yelling, 'stay relaxed,' and I immediately settled in," Williams said. "I was in 10th or 12th, and just figured I'd stay right there and feel really good and slowly move up."
Continue reading at: http://dailyprincetonian.com