Wilton's Spencer Brown leaves a lasting legacy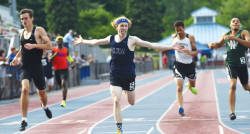 July 11, 2015
2015 All-Area Boys Track MVP: "I'd love to break 4 minutes in a Mile...I'd love to become one of the best guys at Georgetown as well."
By Bob Birge, The Hours
Earlier this year, Wilton High School unveiled a new record board inside the Zeoli Field house for its indoor and outdoor track and field teams.
According to Wilton boys coach Jim Gerweck, people jokingly refer to it as the Spencer Brown board because over the past two and a half years the Georgetown University-bound Brown re-wrote the school's record book.
"At this point, he holds every (school) record from 400 to 3200 indoors and outdoors, so that's pretty impressive," Gerweck said of Brown, who has been selected as The Hour's area outdoor boys track and field MVP.
Continue reading at: www.thehour.com