World indoor legends: Marcus O'Sullivan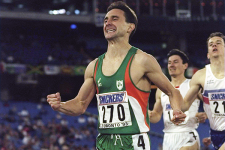 January 14, 2018
Mile legend and three-time World champion shares his four indoor global event memories
By Steve Landells for the IAAF
Ahead of the forthcoming IAAF World Indoor Championships Birmingham 2018, we launch a new series focused on some of the great world indoor champions from the past.
First up is Irish middle-distance star Marcus O'Sullivan, who snared three 1500 meter global titles in the early years of the established biennial event.
Describe your indoor running journey.
"I fell in love with indoor running after I arrived in the US in 1980 to study at Villanova University. Hailing from Ireland and from a cross county background, I had never run indoors before, but I immediately liked the tightness of the track. I had a low center of gravity, I was very nimble and comfortable on the turns as opposed to taller athlete who would hesitate, break and slow.
"I started running on 160 meter boards, 11 laps to the Mile. Crazy as it sounds, our 11-lap track was outdoors and we had to shovel snow off it before we could use it, yet I always looked forward to training on that track. I felt a great connection to indoor running and felt very comfortable doing it."
Was competing at the inaugural IAAF World Indoor Championships in Indianapolis in 1987 a big deal for you?
"I'd gone undefeated indoors the previous year, but in 1987 I only planned to run three indoor races. The IAAF World Indoor Championships was initially not on my calendar, yet that season I felt good and I was inspired to give the World Indoor Champs a go after a mentor convinced me I should strike while the iron was hot.
"I won selection for the team and when I arrived I was surprised at the number of people that showed up. There must have been 22,000 packed into the Hoosier Dome."
Continue reading at: iaaf.org