Yorkshire Milers: My Magnificent Seven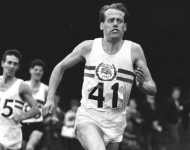 November 09, 2012
Wood, Ibbotson, Simpson, Wilkinson, Coe, Elliott and Mayock
By Alan Flynn, EXCLUSIVE for Bring Back the Mile
In May 1954, Sir Roger Bannister ran the first even sub-4 minute Mile and I watched it on a 12" black and white TV. A couple of weeks later I won the Junior Athletics Trophy at my school aged 11 years and 10 months, winning the 100 and 220 yards sprints and the high jump. This natural ability to run fast was built upon several years later plus qualifying as a Grade ll AAA Timekeeper resulted with me rubbing shoulders with some of the world's greatest Milers.
I have had the pleasure of both growing up and living in an era when athletics drew the imagination of millions. From the first and subsequent sub-4 minute Miles sometimes run on uneven and soggy cinder tracks celebrated by athletes who often had jobs, trained in their own time between shifts for the love of the sport with little reward to the superstar athletes of today. Electronic timing; superfast tracks; sponsorships supported by a host of people from managers to psychologists.
Athletes have been trying to emulate him Sir Roger ever since, and his mark has been reduced by 17 seconds. With athletes not having the opportunity to compete in this event on a regular basis perhaps we may be in a state of limbo for quite a long time before it is broken again.
For me, Sir Roger was the King of the Mile event, the rest of the sub-4 minute men are his Knights in Shining Armour. I originate from the County of Yorkshire, England and we have just recently boasted seven gold medals in the London Olympics. That would have placed Yorkshire in 13th position in the medal table out of the 79 competing countries.
It is no coincidence that I write about seven athletes who were members of Yorkshire Athletics Clubs and who broke the 4 minute Mile barrier and who were amongst the greatest of their generation, they all became famous in their own right. I will call them "My Magnificent Seven" and, I was privileged enough to see all but one compete. Three of them held the World Record , one is ranked in the world's top ten and three of them are ranked in the top 7 UK Milers of all-time.
They were not all full time athletes as you will see and this makes their performances unique. Six of them came from three clubs, (see below ) four in South Yorkshire the home of the coal and Iron and Steel Industries, the other two were only a one hours ride away in the then West Riding of Yorkshire the home of the Heavy Woollen District. The remaining athlete was also based in South Yorkshire. The majority also competed in the 800 and 1500 meter events and have sound ranking in the UK all-time lists. It is argued that a prerequisite for a fast Mile time is a high calibre 800m time. Walter Wilkinson and perhaps Alan Simpson are the exception to the rule.
Here is my list together with their times for 800m (880 yards), 1500m and one Mile, rankings and where the times were run. I have also included information gleaned from several sources to which I shall refer and for which I am deeply grateful. Some of the information should highlight the dedication that they all gave to the sport and their determination to succeed. I have the athletics programs in relation to every meeting at which I competed going back to 1957. I make reference to these with a special mention to six of them who competed at the same meetings where I either competing or officiating.
The athletes are in age order with best Mile times:
Ken Wood (11/21/30), Hallamshire Harriers & Sheffield United AC, Sheffield, 3:59.3 (07/19/57)
Derek Ibbotson (06/17/32), Longwood Harriers, Huddersfield, 3:57.2 (07/19/57)
Alan Simpson (05/22/40), Rotherham Harriers, 3:55.6 (08/03/65)
Walter Wilkinson (11/02/44), Longwood Harriers, Huddersfield, 3:56.6 (05/31/71)
Sebastian Coe (09/29/56), Hallamshire Harriers Sheffield, 3:47.33 (08/28/81)
Peter Elliott (10/09/62), Rotherham Harriers, 3:49.20 (07/02/88)
John Mayock (10/26/70), Barnsley Athletics Club, 3:50.32 (07/05/96)
Ken Wood born 11/21/30
Mile
3:59.3 (#123 UK), 4 – White City Stadium London, July 19, 1957
Ken came 4th to Derek Ibbotson who set a new world record of 3:57.2 and also set a 1500 meters world record of 3:41.9 in the process.
Ken won the Emsley Carr Mile, the most famous of one Mile events four times, more than any other athlete 1954, 1955 1957 and 1961 but his times were not under 4 minutes, however, this proved his world class status for several years. I can go as far back as Gordon Pirie winning the first one in 1953 and I can honestly say that I have seen the majority of those races live on TV. The emotion that builds up shouting for your Nation's athlete is incredible and perhaps more when a world record is at stake, whoever may have won. This is one of many reasons why the Mile should not be abandoned. Ken also finished 9th in the 1500m at the 1956 Melbourne Olympics.
When discussing Bannister's record, one of the top Milers in the 1950s, Ken Wood, claims he ran a sub-4 minute Mile in training in April 1954. But as Bannister himself says, "There are certain conditions that are necessary for claiming records and these relate to track measurements and checking of tracks and, of course, having the requisite number of stopwatches."
Observer newspaper, 05/02/54
I saw Ken race several times in the early/mid 60s at local and county events in which I was competing. Unfortunately I cannot remember his performances nor can I trace his 800 or 1500 meters times. In 1992 I visited the Melbourne Cricket Ground (1956 Olympic venue ) to watch the World Cup Final between England and Pakistan. To see the stadium was a thrill indeed. I had listened to the Games on the radio and listened to the commentary of Chris Brasher winning the 3000 meters steeplechase. A few years l revisited and had a tour of the museum that houses Olympic memorabilia from that era.
George Derek Ibbotson, MBE, born 06/17/32
Mile
3:57.2, world record, (#61 UK), 1 – White City London, July 19, 1957
1500
3:41.9, world record, (#161 UK), same as above
He excelled in athletics in the 1950s, he was Junior champion in Britain in 1950, and is a former member of the RAF.
Training sessions at Leeds Road Playing Fields in Huddersfield were hard. He would get covered in dye from the nearby ICI Dyestuffs factory, and the cinder running track turned to a slushy mess in wet weather. I competed quite often on this track. It was hard and the 200 meter start was halfway down the back straight. Hitting the bend at full speed as not always an option when in lanes 4-6 because the track cambered outwards and it was difficult to keep close to the lane marking.
His most famous achievement was setting a new world record in the Mile on 3:57.2 London (White City) on July 19, 1957 and broke the world 1500m record in en route with a time of 3:41.9. His upright and lean back style was easily recognised when racing. He was of the generation that included other great British Milers such as Sir Roger Bannister and Chris Chataway.
On September 3, 1958, Derek entered sports trivia books by running the first ever 4 minute Mile finishing fourth in exactly 4:00.00 at White City. He won the Emsley Carr Mile twice 1956 and 1959. On the first occasion he ran 3:59.40, the first sub-4 minute in the race's history.
He was appointed Member of the Order of the British Empire in the 2008 New Year Honours list for services to athletics. In 2011, he was inducted into the English Athletics Hall of Fame.
He was once advised to concentrate on the 5000 meters but unfortunately he took no heed of this and paid the consequences in future races.
Alan Simpson born 05/22/40
Mile
3:55.68, (#34 UK), 3 – London White City, August 30, 1965
1500
3:39.1, (#62 UK), London White City
These rankings show the quality of his performances. It is interesting to note that he was persuaded by Bruce Tulloh – (the then leading UK 5000m runner) to concentrate on the Mile and 1500! This he did, going on to set a new UK Mile record of 3:56.6. He further improved the record to 3:55.3 later in the same year. Alan was coached by Ian Ward at this time.
In 1966 Alan finished second in the Commonwealth Games Mile race, running 3:57.1. The race was won by the legendary Kip Keino, in 3:55.3. Alan considers Keino to be the best Mile racer he ran against. It is interesting to look back now, when our athletes are mainly full time and supported or sponsored, to when Alan was preparing for his Olympic effort, going out training from work in the steel industry during his lunch break.
He won the Emsley Carr Mile in 1965 but was not under 4 minutes. Alan held the UK record for 1500m for 5 years, and the UK Mile record for 7 years.
Walter Wilkinson born 11/02/44
Mile
3:56.6, (#71 UK), 1 – Leicester, May 31, 1971
It was Derek Ibbotson who persuaded him to join Longwood Harriers. He wasn't to regret it. He was the first British athlete to run a sub-4 minute Mile whilst under 21.
In a Yorkshire paper he was said to have been a fireman on the trains on the Harrogate line. I can remember him in a picture depicted as a train driver. That must have been a tough job for someone who also wanted to be a top athlete?
"If I had been working all night it made me a bit bad tempered and I could then put, the aggression into races," he remarked. (Interview with Paul Dickenson).
Wilkinson went on to represent Great Britain on several occasions. He was AAA's 1500 champion in 1970 with a time of 3:45.3 and Indoor AAA's Champion in 1969-70; also, in 1969, he was the European 1500 bronze medalist Indoors in Belgrade in 3:46.4. (That year the superb tactical racer John Whetton won the European outdoors title in Athens). Walter named who he considered the best middle distance men he had run against as "John Walker, Keino, Filbert Bayi, Coe and Ovett."
Walter is two years younger than myself and of all the athletes discussed he was the one whom I saw run the most both at club and County level when I was also competing. He is of medium height and had a long, easy long stride length.
He continued racing into his late 50s. He recorded some very commendable times such as 2:09.49 for 800 meters in 2000, over 55 Bedford British Masters
Sebastian Newbold Coe born 09/29/56
Mile
3:47.33, world record, (#10 World, #2 UK), 1 – Brussels, BEL, August 28, 1981
1500 meters
3:29.77, (#2 UK), 1 – Rieti, ITA, September 7, 1986
800 meters
1:41.73, world record, (#3 World, #1 UK), 1 – Florence ITA, June 10, 1981
Now Baron Coe KBE (Lord Coe), ex-politician and Chairman of the 2012 London Olympic Committee won four Olympic medals, including the 1500 meter gold medal at the Olympic Games in 1980 and 1984. He set eight outdoor and three indoor world records in middle-distance track events– including, in 1979, setting three world records in the space of 41 days – and the world record he set in the 800 meters in 1981 remained unbroken until 1997. Coe's rivalries with fellow Britons Steve Ovett and Steve Cram dominated middle-distance racing for much of the 1980s.
Following Coe's retirement from athletics, he was a Member of Parliament for the Conservative Party from 1992–97, and became a Life Peer in 2000, he was also elected a vice-president of the International Association of Athletics Federations (IAAF). On August 25, 2011, he was re-elected for another four-year term. In 2012, he was appointed Pro-Chancellor at Loughborough University where he had been an undergraduate, and is also a member of the University's governing body.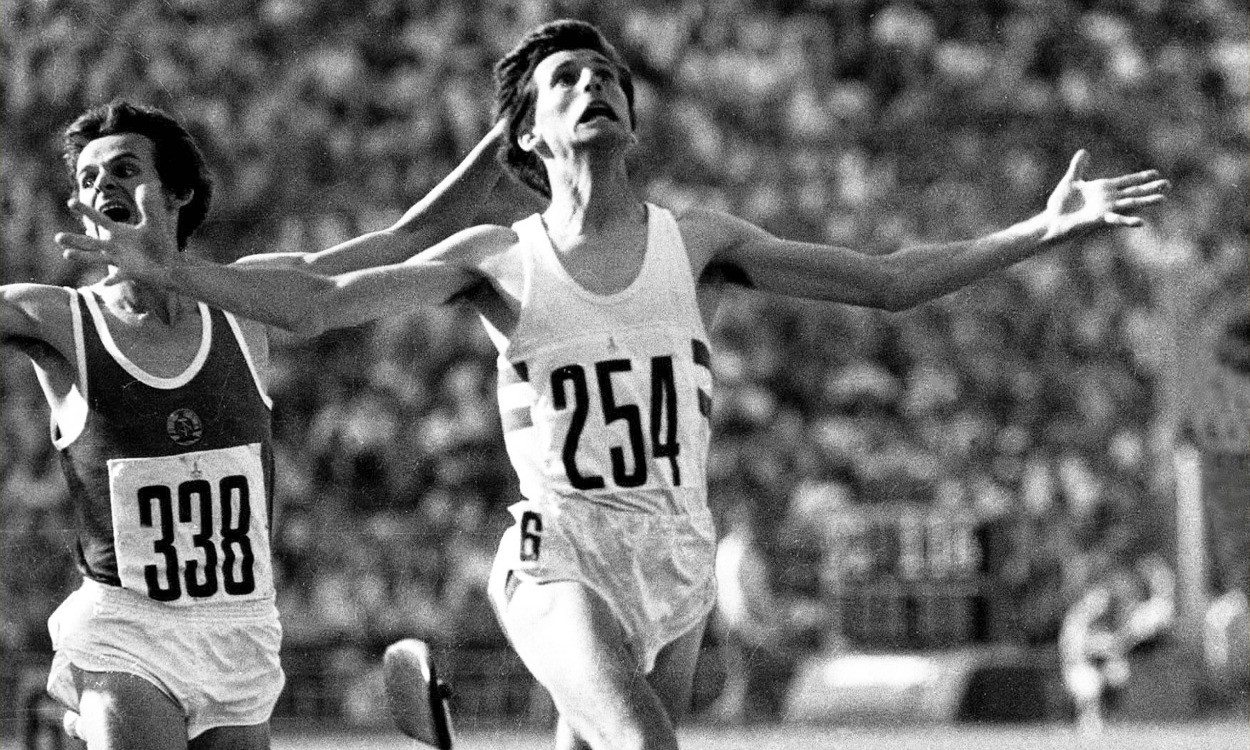 In 2012 he was of one of 24 athletes inducted as inaugural members of the International Association of Athletics Federations (IAAF); also awarded Sports Personality of the Year Award 1979.
He won the Emsley Carr Mile twice in 1977 (3:57.67) and 1983 in over 4 minutes. He was coached by his late father Peter Coe.
In the latter stages of my athletics I competed in several meetings with Seb. My wife used to sit in close proximity to his mother and of course shouted her support when he competed. I have his autograph on the front of the 1982 Yorkshire Country Athletics program when he competed against Peter Elliott. Unfortunately I do not have the result.
UPDATE: Seb Coe is the current IAAF President.
Peter Elliott born 10/09/62
Mile
3:49.20, (#4 UK), 2 – Oslo, NOR, July 2, 1988
1500 meters
3:32.69, (#7 UK), Sheffield GBR, September 16, 1990
800 meters
1:42.97, (#3 UK), Seville, ESP, May 30, 1990
During his career, he won the 1500m gold medal at the 1990 Commonwealth Games and the silver medal in the 1500 meters at the 1988 Olympic Games and the silver medal in the 800 meters at the 1987 World Championships.
During his early athletics career he worked as joiner at British Steel. Remarkably, he managed to establish himself as a world class athlete while working full-time. He began his athletic career by running in the Young Athletes League for his local club, Rotherham Harriers, and his 800m time of 1 minute 53.3 seconds has been the under-17 record since 1979. Elliott also held the UK under-17 record with a time of 1 minute 50.7 seconds, which stood for nearly 10 years. He excelled as a schoolboy athlete, winning four English Schools titles, twice at 800 meters and twice over the country.
Peter's other main Mile achievements include:
Winner of the Emsley Carr Mile 3 times, all in under 4 minutes
1984, 3:55.71, Gateshead Stadium, Gateshead
1990, 3:55.51, Gateshead Stadium, Gateshead
1991, 3:52.10, Don Valley Stadium Sheffield
Fifth Avenue Mile champion in 1987, 1989 and 1990, the latter in 3:47.83.
Bronze medal in the 800m at the 1986 Commonwealth Games and he also finished fourth in the Olympic 800m final.
In 1990, Peter ran an outstanding 1:42.97 over 800 meters in Seville (ranking him #1 in the world for 1990, and making him the third fastest Briton of all-time over the distance).
After retiring from competition running in 1992, Elliott became a coach and race organiser. He joined Newcastle-based sports marketing agency Nova International, where he was Director of Running. In 2004 he became the Athlete Services Manager for Yorkshire at the English Institute of Sport in Sheffield
As a Grade 2 AAA Timekeeper, I witnessed his rise through the Junior to Senior ranks. As a Junior, he was a gangly, pale young man with a mop of blonde hair and wore spectacles. His style never changed and you would walk passed him in the street without being aware of his potential.
John Paul Mayock born 10/26/70
Mile
3:50.32, (#6 UK), 3 – Oslo, NOR, June 5, 1996
1500 meters
3:31.86, (#4 UK), 8 – Brussels, BEL, August 22, 1997
Mayock has competed at three Olympic Games, 1996 in Atlanta; 2000 in Sydney in the 1500m and 2004 in Athens in the 5000m. He has also competed at three Commonwealth Games, in 1994 in Victoria and 1998 in Kuala Lumpur, where he won bronze and silver medals in the 1500m. He was placed fourth in the 5000, at the 2002 Commonwealth Games in Manchester. He currently holds British indoor records for the 2000 m (4:57.09) and 2 Miles (8:17.06). His previous record in the 3000 m (7:41.09) was broken by Mo Farah in 2009. Mayock represented Great Britain 58 times during his career.
I never saw John compete apart from on TV but I lived in the same town.
So you can see the lads from those Yorkshire towns were made of stern stuff, some would say having a bit of the Yorkshire Terrier in them particularly those who were holding down jobs and working shifts.
I competed at several athletics meetings at the same time as Wood; Ibbotson; Simpson and Wilkinson in the early to late 60s as mentioned earlier I kept all the programs in respect of the meetings that I ever competed in. Unfortunately, few of their performances were recorded but it was an honour to have my name in the programs amongst such elite athletes and to see them in action.
The program for the Yorkshire Championships dated May 8, 1965 shows all four of these athletes, as well as myself competing. In August of that year Simpson went on to break the world one Mile record. They also competed in local events some being invitational and in the former competed against less competent athletes for prizes.
On July 16, 1966, Ibbotson and Wood competed in an invitational 2 Mile event when the prizes were values at £7, £5 and £3. On August 5, 1967 Ibbotson and Wilkinson were in an Invitational one Mile event when the prizes were of an identical value.
A check on the Historic Inflation Calculator reveals that £7 would have been worth almost £107 today; £5 and £3 valued at £76 and £42 respectively. Average annual salary was £1,333 or £25 per week. So whilst the value of prizes appears low now they were quite respectable.
It has been exciting to look back not only upon my career but also of the men referred to. I worked shifts; trained three days a week and achieved a moderate amount of success. These sub-4 minute Milers did more than that. They were determined and ruthless in their approach to the sport. To witness them racing was a pleasure; and to see them race on TV and beat the best in the world was another. I am really pleased that I kept my programs. They have remained in my loft untouched for many years and they have grown old just like my athletes.
NOTE
The writer was born in Dewsbury, Yorkshire in July 1942 and was a member of Airdale and Spen Valley AC from the mid-60s for several years. He was coached by several people including Peter Warden of ASVAC who represented GB at the 1964 Tokyo Olympics in the 400m hurdles.
He competed in sprint events up to the age of 39 from local to National level and won a few championships en route and set PRs of 10.8 100 meters; 21.8 200 meters and 50.9 400 meters. He was ranked in the top 50 of the UK from 1969-71. A few years after retiring from competitive athletics he qualified as Grade ll AAA Timekeeper and officiated up to International level. During these periods he saw not only the best Yorkshire compete at the same meetings as himself and when officiating at International meetings at Gateshead Stadium saw the likes of legends Steve Cram (GBR), Steve Scott (USA) and John Walker (NZL).
ACKNOWLEDGEMENTS
Wikipedia
Tolson Museum Huddersfield and Dewsbury Museum
Hallamshire Harriers
United Kingdom Athletics
The Press York, Stuart Martell
GBR Athletics all-time record lists.
Personal record about Alan Simpson published on the internet by way of press cuttings.