4 Minutes with a Miler: David Torrence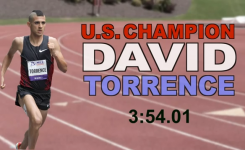 May 17, 2012
Bring Back the Mile's podcast series, 4 Minutes with a Miler, sits down with USA Champion and 3:54.01 Miler, David Torrence, co-founder of the Bay Area Track Club and coached by John Cook. A Cal Berkeley grad, in 2007 Torrence also broke American Mile great Don Bowden's 50-year-old Golden Bear Mile record with his 3:58.7 win at the California Collegiate Challenge (watch the race here). The interview is hosted by Duncan Larkin with the audio available below and through the iTunes store, in addition to the complete transcript below.
Complete Transcript
Hello and welcome to Bring Back the Mile's latest edition of Four Minutes with a Miler. Today we are speaking with champion Miler David Torrence of the Bay Area Track Club. David, welcome to the program.
David Torrence: Thanks a lot, Duncan. I'm glad to be here.
The first question is really a clarification. You had a really nice Payton Jordan 5000m [race]. Are you a 5000m guy now or do you consider yourself a Miler?
No. I'm definitely a Miler at heart and at training. The 5K at Payton Jordan was an over-distance race for me. It was a good way to build some strength, but it was all kind of geared towards the 15[00 meter] this season.
You've won three USA Mile Road Championships in a row. You hold the record at the Medtronic TC 1 Mile. What is it about road Miles that excites you?
You know, I don't know. It's always something that I've been enchanted by, I guess. The first one I ever did, I had created with a friend of mine. It was a bet, basically during my third year in college. A friend of mine bet that I wouldn't break 4:00 that year. The year didn't go as planned and December came around. I was like, "Man, I need to break the 4-minute Mile. I'm not in the shape to do it right now." My friend never specified on what surface, so we found a road close to campus that was a Mile downhill. I ended up running 3:46-3:47, something like that, crushing the 4-minute mark. I had a blast doing it. I had a really, really fun time. Ever since then, whenever I get into a road Mile, it's just, I don't know, it's just something new and different. There are just so few chances that you get as a Miler to race on the roads that cherish those chances, and I really enjoy them.
Mile Maniacs out there are wondering what your goals are and where you are racing next so that we can go watch.
Oh, yeah, definitely. My goals this season are to make the Olympic team, make the Olympic final in the 1500[m], and contend for an Olympic medal. I think U.S. distance running is now at a point where if you make the team, you are expected to do big things. With Matt Centrowitz kind of blazing a new path, it may not be a new path, but it's getting a medal that hasn't been gotten in a long time. That's giving all of us kind of a realization that if he can do it, then we can, too, because we are all right there competing against each other every week, so I definitely want to make the team and see what I can do in the final. As for my next race: I'll be doing the 15[00m] in a week this coming Friday at Occidental College on the 18th [of May]. And I'll be racing again probably at [the] Prefontaine [Classic] and at the New York adidas Diamond League Meet.
Has anybody ever asked you, "Hey, are you that guy from the Bring Back the Mile Video?"
You know what? No, I actually haven't got that yet. I've been training really hard up in the mountains, so I haven't really been out with a lot of people. When it does happen, it will be pretty cool.
You are pretty open about your love of the sport. How do you think the Mile can help propel track and field back into the minds and hearts of the general public?
I think it [the Mile] is just something that everyone understands in this country. For a long time track & field moved away from giving back and kind of focused on itself—on its governance, on its elite athletes, which is good. We get a lot of support. That's great, but I think in the meantime, the fans kind of lost out a little bit. I think by having more Mile races and letting people kind of associate with that, it moves the sport forward—without a doubt.
Well that's all the time we have for today's installment of Four Minutes with a Miler. David, thank you very much for your time and good luck to you in your career.
Yeah, thanks a lot. I appreciate it.