A Few Words About Running from the Great Larry Bird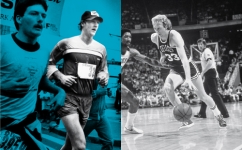 April 15, 2015
My best time in the Mile was 5:08, going into my senior year at Indiana State. That was once in a lifetime. Usually I ran it in 5:30, 5:35.
By Dan Simmons, Runner's World
At age 58, the Boston Celtics legend is now president of the Indiana Pacers and still a runner at heart. Here, he reveals his lifelong passion for the sport and the unique way he manages to get his run in four times a week.
I always ran when I played. Before games. After games. Didn't matter. I just felt a need to stay in top condition. I used to run at least one or two Miles, up on the second level of the Boston Garden. I enjoyed it.
No matter what, if I got a good run in before practice, I felt like I accomplished something that day. In practice we could run for two hours, but I still didn't get the feeling I did when I went outside for a couple of Miles.
Two days before I scored 60 against Atlanta, there was this big five-miler outside of the Boston Garden [it was the 1985 Shamrock Classic]. I ran it in 32 and a half minutes, I think. So against Atlanta I was worried because my hamstrings were really tight, but I got loose and felt better and had a pretty good game, scoring the ball anyway.
I can't run on the street anymore because of my back, but I still run on an underwater treadmill. I do that four times a week, 48 minutes, about 6.3 mph. It's a pretty good little run for me.
Continue reading at: www.runnersworld.com