A Man with a Plan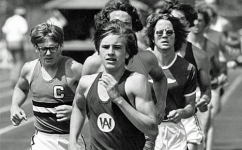 February 17, 2014
How a high school Mile race Jon Sinclair won 40 years ago set the tone for his successful career.
By Chris Cooper, from My Best Race: 50 Runners and the Finish Line They'll Never Forget
Fans of "Seinfeld" recall the episode in which George Costanza changed his life by doing the opposite of what he normally would do. The theory was that if every instinct George had was wrong, then the opposite would have to be right. But before there was Seinfeld there was Sinclair. Jon Sinclair. In the most important race of his young career, Sinclair did the opposite, and it changed his life forever.
Sinclair gravitated to organized running for the same reason countless others became runners: He was not good enough or big enough for any other sport. After he was coaxed onto the track team, he promptly won his first Mile race in near record time.
With coaching and experience, Sinclair eventually became one of the top runners in Colorado at Arvada West High School. Leading up to the 1974 state championships his junior year, however, Sinclair, 16, still didn't know how good he could be. "There were a lot of guys in the state I had not yet run against," he says. "Most people, when they looked at me, didn't see a champion runner, and that was my own self-image, too."
Continue reading at: www.runningtimes.com