A runaway success: Paul Escher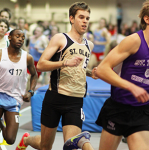 October 22, 2015
Indoor Mile national champion excels indoors, outdoors, on turf and in classroom for St. Olaf
From St. Olaf College
When Paul Escher '16 embarked on his college search, he knew what he was looking for.
As an athlete with academic interests in health care and religion, Escher explains that he was originally drawn to "the solid pre-med program and sizable Religion Department" at St. Olaf College, in addition to its cross country team.
Four years later, Escher is a three-sport athlete graduating with a double major in biology and religion. Throughout his time at St. Olaf, he has achieved a myriad of accomplishments in both athletics and academics.
Escher was formally recognized for his far-ranging talent when the U.S. Track & Field and Cross Country Coaches Association named him the 2014-15 Scholar-Athlete of the Year. This award is given to the highest-finishing performers at the National Collegiate Athletic Association Indoor & Outdoor Championships who also achieved USTFCCCA All-Academic Individual status, with cumulative GPA as the final tiebreaker among them.
Continue reading at: wp.stolaf.edu