After the Mile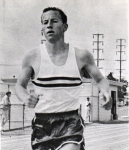 March 13, 2013
Tim Danielson was among an exclusive group of runners who had broken the mystic four-minute barrier. Now he is a runner shackled, charged with killing his ex-wife.
By Jere Longman, New York Times
SAN DIEGO — It was to be a reunion of Southern California's top high school runners, more than a hundred of them across six decades. National record-setters, state champions, a sprinkling of Olympians. Among them, a private man was going to make a rare public appearance. If Tim Danielson was not the guest of honor, exactly, he was the one everybody wanted to see.
On June 11, 1966, competing at Balboa Stadium, where the San Diego Chargers and the Beatles had performed, Danielson became the second American high school athlete to run a Mile under four minutes. It was an achievement so extraordinary that only three prep Milers have done it since, running four laps around a track, averaging less than a minute per lap.
Danielson's stunning time that day was 3 minutes 59.4 seconds. It matched the time that Roger Bannister, an English medical student, had run on May 6, 1954, in becoming the first man to break the physical and psychological barrier that was four minutes.
Continue reading at: nytimes.com