Agony and ecstasy of the force within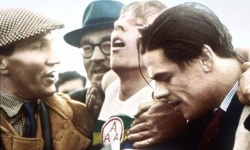 May 18, 2014
Ulick O'Connor, who broke the Irish pole vault record in 1951, recalls the legendary coach behind Roger Bannister's historic sub-4 minute Mile
By Ulick O'Connor, The Independent
Sir Roger Bannister celebrates two major achievements this month. The first is the 60th anniversary of his being the first athlete to break the four-minute barrier in the Mile, the second is the publication of a splendid autobiography Twin Tracks (Robson Press) which as well as dealing with his experience in sport gives a fascinating account of his medical career.
I first met Roger Bannister in the 1950s, when he was being coached by Franz Stampfl (far left above) from whom I had been lucky enough to get a few days' coaching in the pole vault when I was in London. Stampfl was from Vienna and was beginning to have huge success as an athletic coach, using his formula that if you drew on your imaginative resources you could anaesthetise pain and increase performance. It was the athlete's ability to draw on the untapped spirit that counted.
Stampfl explained this to me in somewhat ecclesiastical form – "St. John of the Cross could levitate himself four feet off the ground. That was without a pole. You have something to help you upwards. Why don't you use what St. John had and go higher?"
Continue reading at: www.independent.ie