Alan Webb Ends His Incredible Track Career at Millrose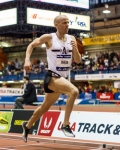 February 16, 2014
U.S. Mile record holder ran his last competitive Mile on the track where it all began in 2001.
By Caitlin Giddings, Runner's World
Saturday was an emotional day for the U.S. Mile record holder and 2004 Olympian Alan Webb, who closed out his final track competition with an 11th place finish in the Wanamaker Mile at the 2014 Millrose Games.
The Armory Track & Field Center offered a fitting bookend to Webb's career, as he made a big name for himself on that track in 2001 with his first sub-4:00 Mile in high school. His 3:59.86 finish not only set an American indoor high school record, but a video tribute to Webb aired before the start of the Wanamaker Mile hailed it as "the most famous achievement in the Armory's 100-year history."
After such a long history of success at the venue, Webb, who is retiring from track and field to focus on triathlon, had hoped to go out on a sub-4:00 Mile at Millrose but came up short in 4:06.11.
After the race, won by Will Leer in 3:52.47, Webb said he hoped for one final kick but discovered he just didn't "have that gear anymore."
Continue reading at: www.runnersworld.com