All-time great votes for Tamagno as best OC Miler ever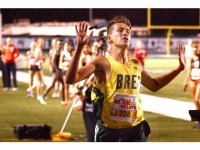 April 23, 2016
Serna predicts Tamagno, who signed with Oregon, would surpass Hulst in longer distances if Tamagno made a strong effort.
By Steve Fryer, OC Varsity
Austin Tamagno had just set the Orange County record in the Mile last week when he heard people compare him to the county's great distance runners of the past.
"To be listed with those names, it's pretty amazing," the Brea Olinda senior said.
One of those "names" puts Tamagno at the top of the county's all-time list.
Ralph Serna is in the discussion for greatest distance runner in Orange County boys track and field history. A national star at Loara in the mid-1970s, Serna's converted time of 8:42.9 in the 3200 meters is second-best in county history. His 4:05.6 in the 1600 is the seventh-fastest time in county history. (It was a 4:07.0 Mile he ran that day in '75.)
Continue reading at: ocvarsity.com