Andrew Wheating on His Retirement: "I Have No Regrets"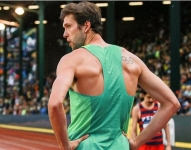 January 08, 2018
The sport of running will always have a place in my heart, I will always consider myself a runner, because I absolutely love the sport itself.
By Sarah Lorge Butler, Runner's World
Andrew Wheating, who made the U.S. Olympic team in 2008 only three years after he started training seriously for track, announced his retirement from competitive running Thursday on social media.
The 6-foot-6 inch runner for Nike has struggled with injuries for much of his career, which his Facebook post reflected. "Dear Professional Running," he wrote. "You've hurt me so many times I've lost count."
When he was healthy, Wheating was electrifying. Just after finishing his sophomore year at the University of Oregon, he finished second in the 800 meters, behind Nick Symmonds, at the U.S. Olympic Trials, earning a spot on Team USA bound for Beijing. He also made the Olympic team in 2012 in the 1500 meters. He holds personal bests of 1:44.56 for the 800 meters, 3:30.90 for 1500 meters (#5 U.S. all-time) and 3:51.74 for the Mile—all of which came in 2010.
Wheating, who recently moved from Eugene, Oregon, to Portland, spoke with Runner's World about the frustration of injuries, the realities of performance-enhancing drugs in track & field, and what he's up to now.
Runner's World: What made you think this was the time to hang it up?
Andrew Wheating: After the U.S. Championships, my first workout after that, my Achilles flared up, and I ran into all sorts of problems. So I shut it down, let's try and see if we can patch up the holes, and maybe catch a race at the end of the summer. I couldn't get it going. Mid- to late August, it wasn't there. I shut it down, I moved to Portland, and I settled in.
About mid- to late September, I said, "Okay, maybe we should start running again." I went for a couple of runs, kind of came back and said, "You know what? I don't want to do this anymore." You hit your head against the wall so many times, it doesn't move, it's going to start to hurt.
Continue reading at: www.runnersworld.com