Aragon races to 4th best HS 1500 time ever at Payton Jordan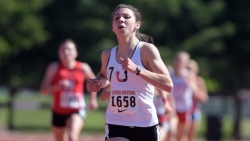 May 02, 2016
Defending high school Dream Mile champion improves time by 5 seconds from last year's meet.
By Bob Zellar, Gazette staff
STANFORD, Calif. — What will Christina Aragon do next?
The super senior from Billings Senior raced to a 4 minute, 11.24 second to win section two of the women's 1500 meter run on Sunday at the Payton Jordan Invitational here.
According to multiple online publications, the time is the 4th fastest all-time for high school runners. At the same meet last year, Aragon clocked a 4:16.36, which at the time was the fifth fastest.
Aragon, who has been dominant on the track this season for the Broncs, will run for Stanford next season.
The Payton Jordan is billed as "the premier distance-running track meet in the country." The meet is open to professional, collegiate and amateur runners.
Continue reading at: http://billingsgazette.com