Avila Finds Redemption, First Sub-4 Mile, at Jim Ryun Meet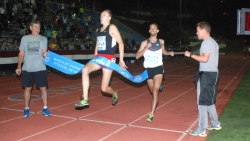 June 06, 2014
"My hope is this will be the genesis of things to come. We've started a little spark that could grow into a fire — and grow the sport back." - Jim Ryun
By Ken Stone, Times of San Diego
Chula Vista native Eric Avila pointed to the crowd on the homestretch and leaped as he crossed the finish line, sending dozens of fans into their own jumps for joy.
Avila, 24, did more than become the first Miler to break the 4-minute barrier in San Diego since 1988, clocking 3:56.89 to upset former El Camino High star AJ Acosta. He did more than redeem the Jim Ryun Festival of Miles, which printed up 2,500 programs but drew only several hundred spectators to a chilly Balboa Stadium.
The 2007 Bonita Vista graduate completed a track journey Thursday night that included a state 3200m title but took detours that saw him gain 30 pounds, quit school and become a ditch-digger for a time.
"I didn't approach things right," he told U-T San Diego last month. "Let's just say I was an idiot."
With Jim Ryun holding the tape and U.S. Mile record holder Alan Webb looking on, Avila upset former University of Oregon star Acosta in the final race of an event marking the 50th anniversary of Ryun becoming the first high schooler to break the coveted 4-minute barrier.
Continue reading, includes photo gallery, at: http://timesofsandiego.com/sports