Ben's Memorial Mile to honor Downers Grove runner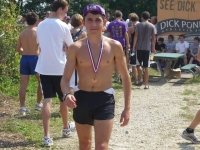 April 25, 2016
"We can honor his life and honor everyone's friendships by coming together again."
By Marie Wilson, Daily Herald
Ben Silver of Downers Grove was a lot of things during his 22 years, and one of them was a runner.
He was a teammate, captain, competitor and all-state athlete running track and cross country at Downers Grove North High School.
And he was fast. His 2-Mile personal best of 9:18.91 -- a 4:39 per Mile pace -- still stands as the record at his alma mater.
But injuries prevented him from running in college at Miami University of Ohio. Soon, Ben's behavior became erratic and he started experiencing mental health issues.
He took his own life last July and as his family and friends have grieved their loss, they've also been planning for an uplifting event -- a race -- to carry on his memory.
Continue reading at: www.dailyherald.com