Binghamton University's Jesse Garn breaks 4-minute Mile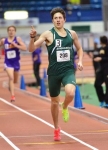 March 02, 2014
Coach Annette Acuff: "He executed the race so well under a lot of pressure. This is a great achievement for our program."
From Press & Sun-Bulletin
Junior middle distance runner Jesse Garn became the second athlete in Binghamton University program history to break four minutes in the Mile on Sunday at the Boston University's Last Chance Meet.
He recorded a first-place time of 3 minutes, 59.37 seconds, which is the 18th fastest at the NCAA Division I level this season. The top 16 times will qualify for the NCAA Championships March 13-14 at the University of New Mexico.
In the past, some of the top 16 performers have not declared entrance in an event in order to focus on another one at the NCAA meet. Therefore, Garn has a solid chance of advancing to his first national meet when the final list is revealed on Tuesday.
"I am so proud of Jesse," assistant coach Annette Acuff said. "He executed the race so well under a lot of pressure. This is a great achievement for our program."
Continue reading at: www.pressconnects.com