Bjorkquist is honored 70 years after win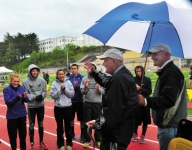 May 13, 2014
"I always wanted to do something. I know I could run because I ran all through the Depression."
By George Artsitas, The World
COOS BAY — The state's oldest track meet kicked off by recognizing one of its oldest champions.
The 106th Coos County Meet opened up by honoring 87-year-old Rudy Bjorkquist on the 70th anniversary of his winning the 1944 county Mile.
What elevates Bjorkquist's story from your run-of-the-mill, lionizing memorial is that he never got to defend his title. Bjorkquist was drafted into the Army his senior year and went from playing for Pirate Pete to fighting for Uncle Sam.
Continue reading at: www.theworldlink.com