Boulder shows its community spirit at 17th Pearl Street Mile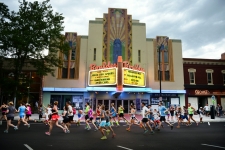 July 10, 2014
"Downtown Miles, which have caught fire across the country, are loved because it's something everyone can do." - Melody Fairchild
By John Meyer, The Denver Post
Former University of Colorado runner Sara Vaughn won the women's elite wave of the Pearl Street Mile in 4 minutes, 54 seconds Wednesday night. It took Ken Wright three times as long to finish last, but he's three times her age, too.
Both were cheered across the finish line in one of Boulder's classic running events.
"I love this race," said Wright, 85. "It's our favorite race."
A lot of people rank it among their favorites. In its 17th year, the race annually attracts hundreds to downtown Boulder in a colorful celebration of Boulder's competitive running culture. Crowds pack the area around the start / finish at 14th Street on the Pearl Street Mall, cheering for moms and pops and kids and elite runners in a series of Mile waves.
Continue reading at: www.denverpost.com